When Grace Mariani graduated from college, she got a diploma. And so did her service dog, Justin!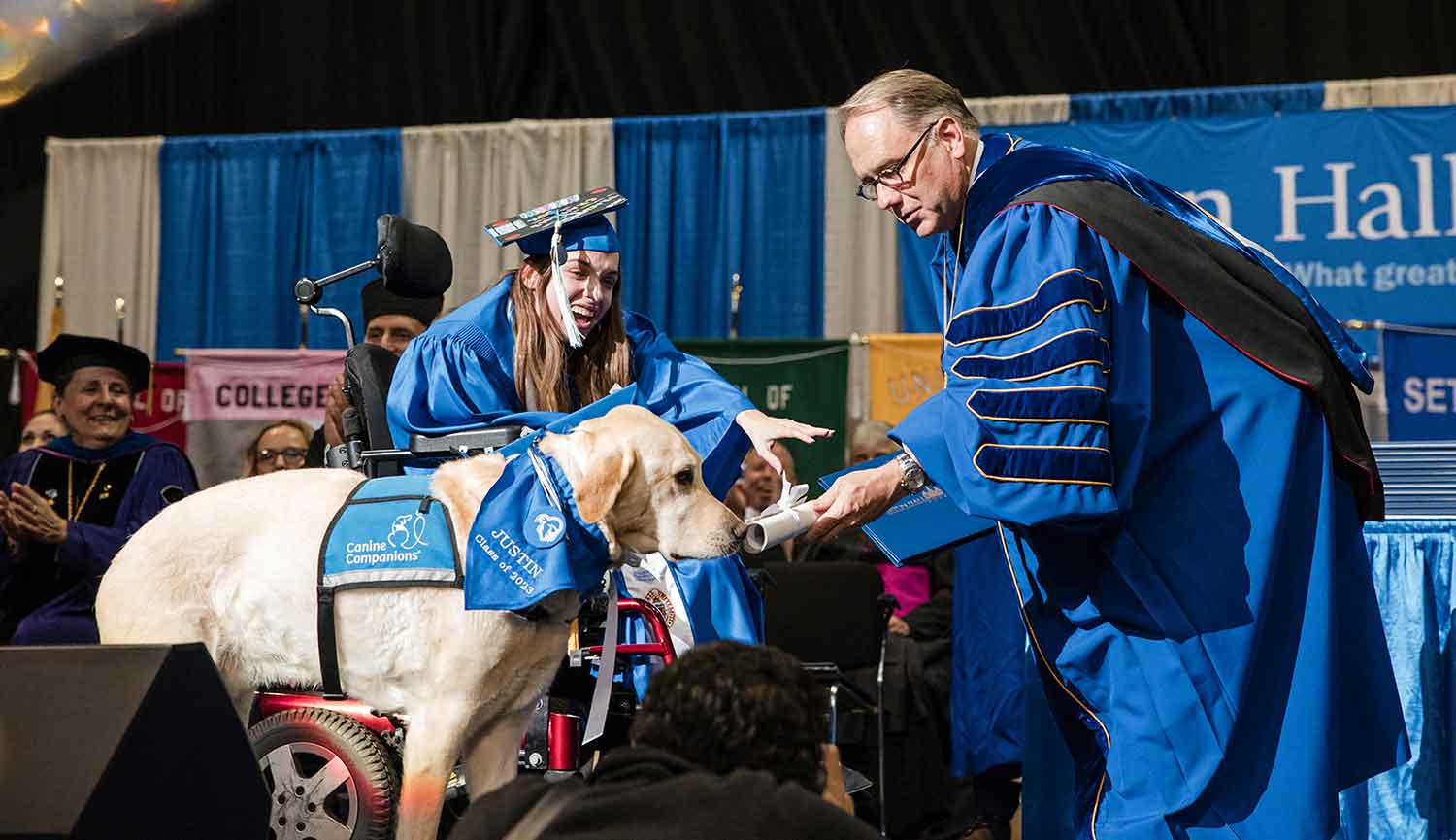 Courtesy Seton Hall University/Kristine Foley
Grace Mariani and her service dog, Justin, both received diplomas from Seton Hall University president Joseph Nyre.
When Grace Mariani went to college, her service dog, Justin, was by her side all the way. So when Mariani graduated from college and got a diploma, Justin got one, too!
Service dogs are trained to help people who have disabilities. Justin helps Mariani, who uses a wheelchair, with certain tasks. The 6-year-old Labrador and golden retriever mix went with Mariani to all of her classes at Seton Hall University in New Jersey.
Mariani graduated from Seton Hall in May 2023. The ceremony took place in a large arena in front of a huge crowd. When Mariani's name was called, she and Justin went to the stage, where college president Joseph Nyre was waiting with Mariani's diploma—the certificate saying that she had finished college. Nyre gave Mariani her certificate, but he didn't stop there. He then held out a diploma to Justin.
Justin looked like he wasn't too sure what to do at first. He sniffed the diploma and then looked at Mariani. When she signaled to him, he took the rolled-up paper in his mouth. The crowd cheered. Mariani smiled, and Nyre raised his arms in celebration. Hearing the cheers, Justin wagged his tail.
Mariani is planning to become a teacher. Justin will keep on being a service dog—a service dog with a college diploma!
When Justin took his diploma, the whole crowd cheered!