A'ja Wilson of the Las Vegas Aces is a WNBA superstar.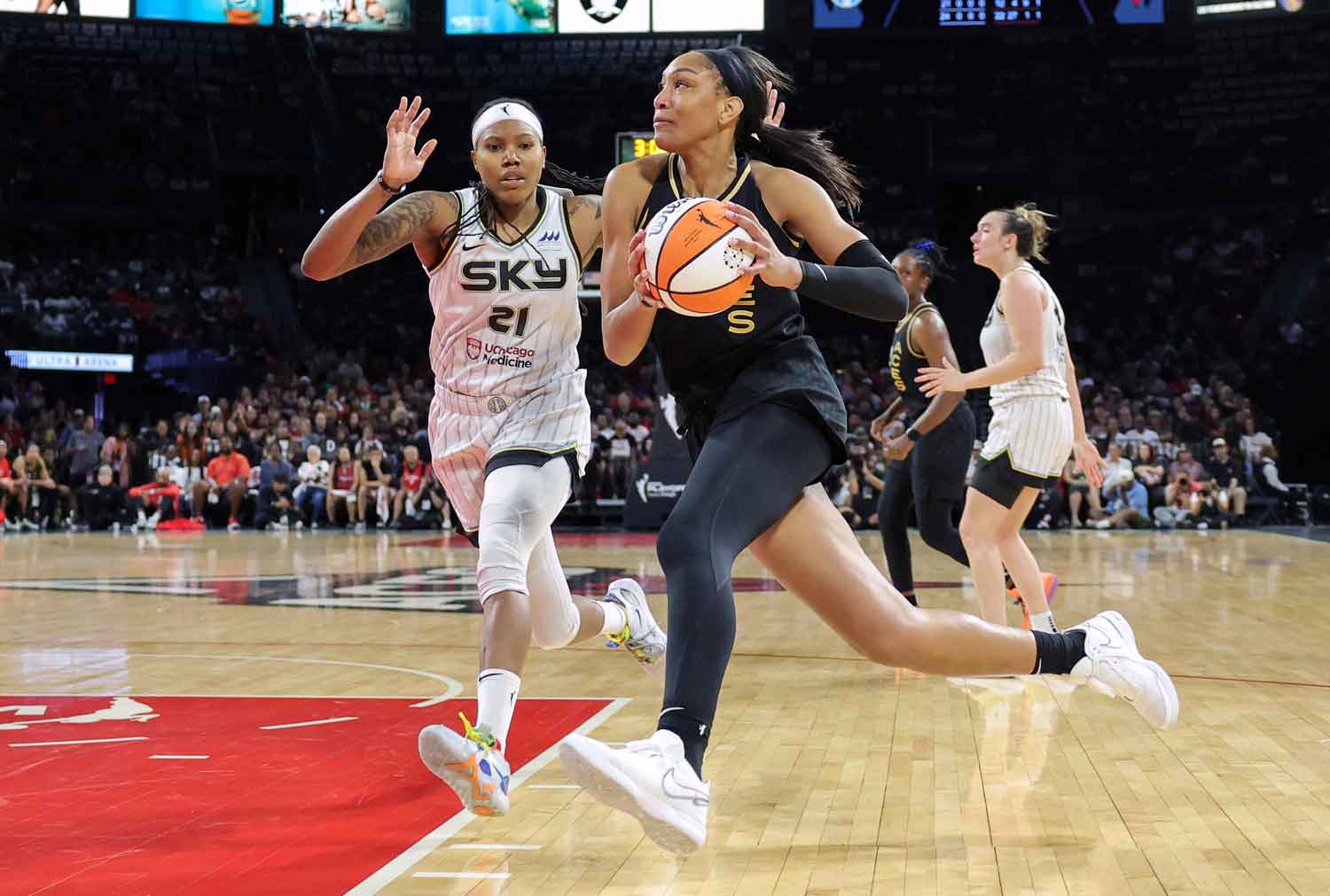 Ethan Miller/Getty Images Sport
A'ja Wilson (in the black uniform) dodges opponent Robyn Parks of the Chicago Sky during Game Two of the 2023 WNBA Playoffs on September 17, 2023.
A'ja Wilson is already a Women's National Basketball Association (WNBA) legend, and she's just getting started. In 2023, the Las Vegas Aces forward led her team to its second consecutive championship. With her talent and drive, there's no telling how far she can go.
The Aces clinched the WNBA title on October 18 with help from Wilson's 24 points and 16 rebounds. Wilson, who has been in the league six seasons, was named Finals MVP, the latest addition to an impressive series of accolades.
Wilson wasn't a born athlete, according to her dad, Roscoe Wilson, who played pro basketball in Europe and was A'ja's first coach. She was tall for her age, but her skills needed to be developed. The only answer was hard work. A'ja practiced day after day and became a standout at her high school in South Carolina.
"We had to work on getting to the basket, hitting the 12-foot, 15-foot, 8-foot jumpers," Roscoe told Sports Illustrated. "I would…tell her, 'You are going to get this done,' and that her college coach would be tougher on her than I am."
That college coach turned out to be Dawn Staley at the University of South Carolina. It wasn't easy for Wilson to adjust to college. She has a learning difference called dyslexia, which can make reading difficult. Staley not only helped Wilson in basketball but also gave her opportunities to practice and become more comfortable with reading. Today, Wilson says that Staley, along with her grandmother, were two huge influences that helped her become the person she is today.
"I was a tall, lanky, freckle-faced teenager trying to understand where I fit. My grandmother always had a way to make me feel good about myself: through talks, walks, and tough love," Wilson wrote on her website. "Coach Staley and I bonded the first moment we met. She saw something in me that I didn't see in myself, and she was able to coax it out."
Wilson became her college team's all-time leading scorer. Several media organizations named her National Player of the Year in 2018, and she won numerous honors for her talents on the court. When she was selected by the Las Vegas Aces in 2018, she was the number one draft pick. In addition to the two WNBA titles, Wilson's trophy case includes an Olympic gold medal, two World Cup gold medals, and two WNBA Defensive Player of the Year awards.
Wilson is still only 27 years old and likely has many more years left in her career. For now, she's just enjoying her latest victory.
"I cried to my parents [when we won]," Wilson told Jennifer Hudson during an appearance on the Jennifer Hudson Show. "They sacrificed so much for me. So to have them on the court with me after we won, I cried like a baby, because it was just a wonderful moment."