Thirteen-year-old Da'vian Kimbrough just became the youngest pro athlete in the history of American sports.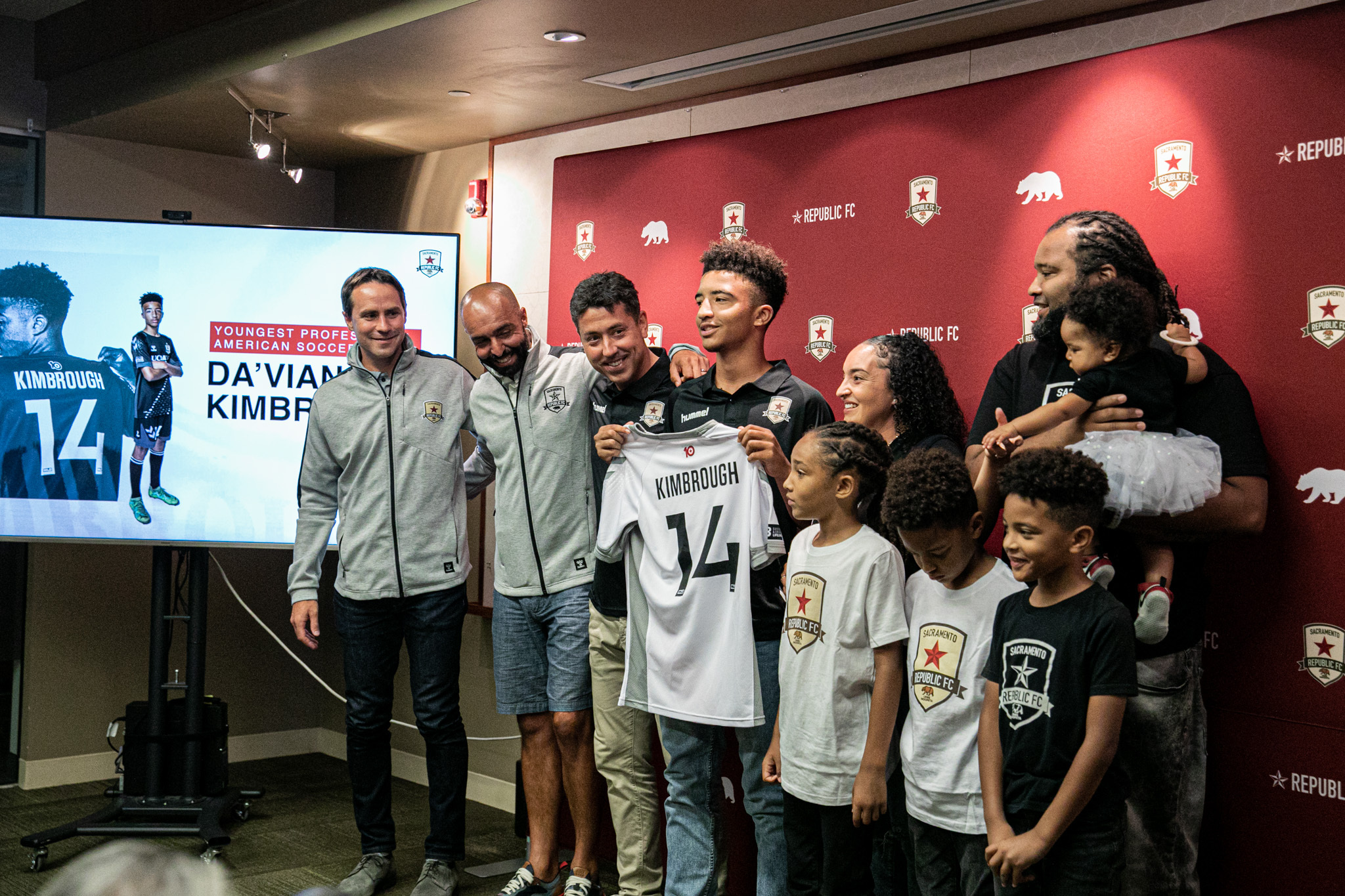 Da'vian Kimbrough (center) poses with his family and others after signing a contract with Sacramento Republic.
Da'vian Kimbrough is a pro soccer player—and he's only 13. In August 2023, Kimbrough signed with Sacramento Republic, a professional soccer team in the U.S. He's now the youngest professional athlete in the history of American team sports.
"Da'vian's journey with Republic FC is just beginning," said Sacramento Republic president and general manager Todd Dunivant. "He is a remarkable talent who has committed to his dream of becoming an elite player, from competing with players in older age groups, thriving at top competitions, to stepping on to the first team training grounds."
Da'vian started playing in Republic's youth academy in 2021, when he was 11 years old. He scored 27 goals in his first year. Thanks in part to Da'vian, his team wrapped up that season with the best record in its age group (30 wins and one loss). In two seasons of play for MLS Next, which is Major League Soccer's youth division, Da'vian scored 61 goals.
Da'vian's parents, who were both athletic when they were teens, said he's been interested in sports since he was about 3, when he would watch footage of his dad playing football.
"We are so happy and honored," Da'vian's mom, Jessica Cervantes, told Fox 40 News. "All the hard work that he put in, and for Republic to put their trust in him, we greatly appreciate it."
Da'vian's dad, Dom Kimbrough, says the family will make sure their son still gets to be a kid. Cervantes says that while Da'vian is serious on the soccer field, he also knows how to let loose.
"He's still like a regular teenager," she told Fox 40 News. "When we get home, he's a regular 13-year-old boy, having fun [and] laughing with us." 
According to the team, Da'vian is eligible to begin playing with the major league team immediately, but he will also continue to sharpen his skills by training with the team's academy.
"We are honored that the Kimbrough family and Da'vian have chosen Republic FC to support his professional pathway, and we look forward to taking the next steps together," Dunivant said.
The video shows Kimbrough in action!