Are Supershoes Worth the Cost?
A new Adidas shoe is made to help runners win races, but it doesn't last very long.
Adizero Adios Pro Evo 1 shoes are made for speed, but they don't last long.
In September 2023, Tigist Assefa, a runner from Ethiopia, broke a world running time record in the Berlin Marathon. Could the secret to her speed have been what she wore on her feet? Adidas, the company that made Assefa's Adizero Adios Pro Evo 1 running shoes, claims the footwear had something to do with it.
After the marathon, Adidas CEO Bjørn Gulden posted a photo of himself and Assefa, holding one of the shoes.
"Tigist Assefa…we are so proud of you!" he wrote.
The new Adidas "supershoes" are designed for experienced long-distance runners like Assefa. The shoes contain foam and other materials that add up to a lighter weight, which usually translates to faster running speeds. Adidas made the shoes to compete with those made by other shoe companies, especially Nike. Nike's Vaporfly shoes are also lightweight and designed to improve running times. Nike, which charges $250 for a pair of Vaporfly shoes, tested the Vaporfly for years and concluded that it helps improve running times by about 4 percent compared to regular running shoes.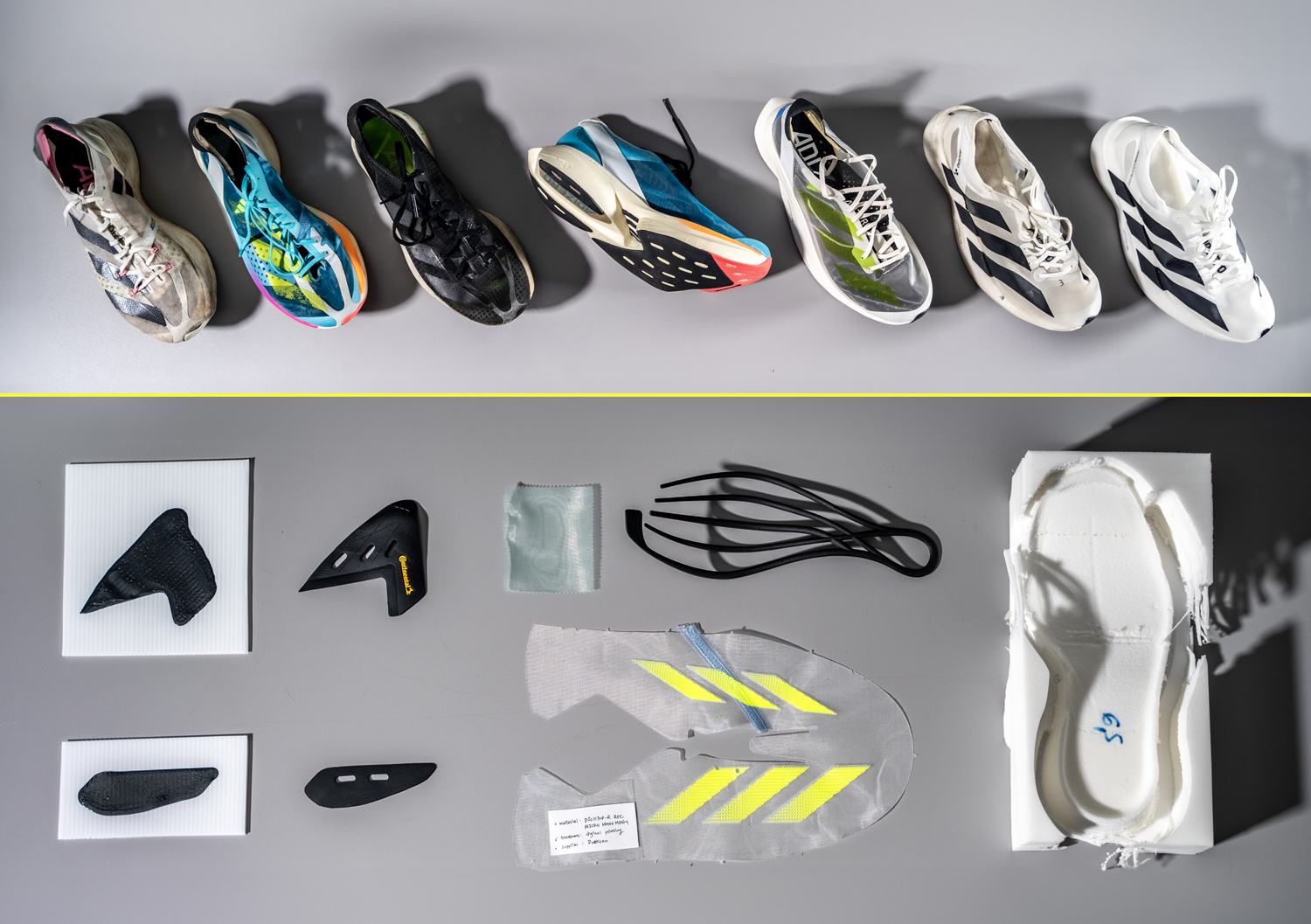 Adizero Adios Pro Evo 1 shoes (top) are made up of several lightweight materials (bottom).
Adidas's Adizero Adios Pro Evo 1 shoes cost $500 a pair. They're lighter than Vaporfly shoes, but the trade-off for all that lightweight material is that they're not durable. Adidas says the shoes are designed to last for one 26.2-mile (42.2-kilometer) marathon race plus a warm-up session. Critics say there's little evidence that the Adidas shoes are much more effective than the Nike shoes.
"We have marketing claims and a pair of promises about improvements," Ross Tucker, an exercise physiologist, told the New York Times. "We have [Assefa's] world record in the marathon. But we don't actually have any evidence, not compared to its peers and certainly not compared to its predecessors."
Ashley Mateo, a journalist and runner, says she thinks the shoes are effective for her.
"They feel fast, but every runner responds differently to different shoes," Mateo told the New York Times.