Volunteers and others are providing aid to people affected by a fire that destroyed part of Maui in August.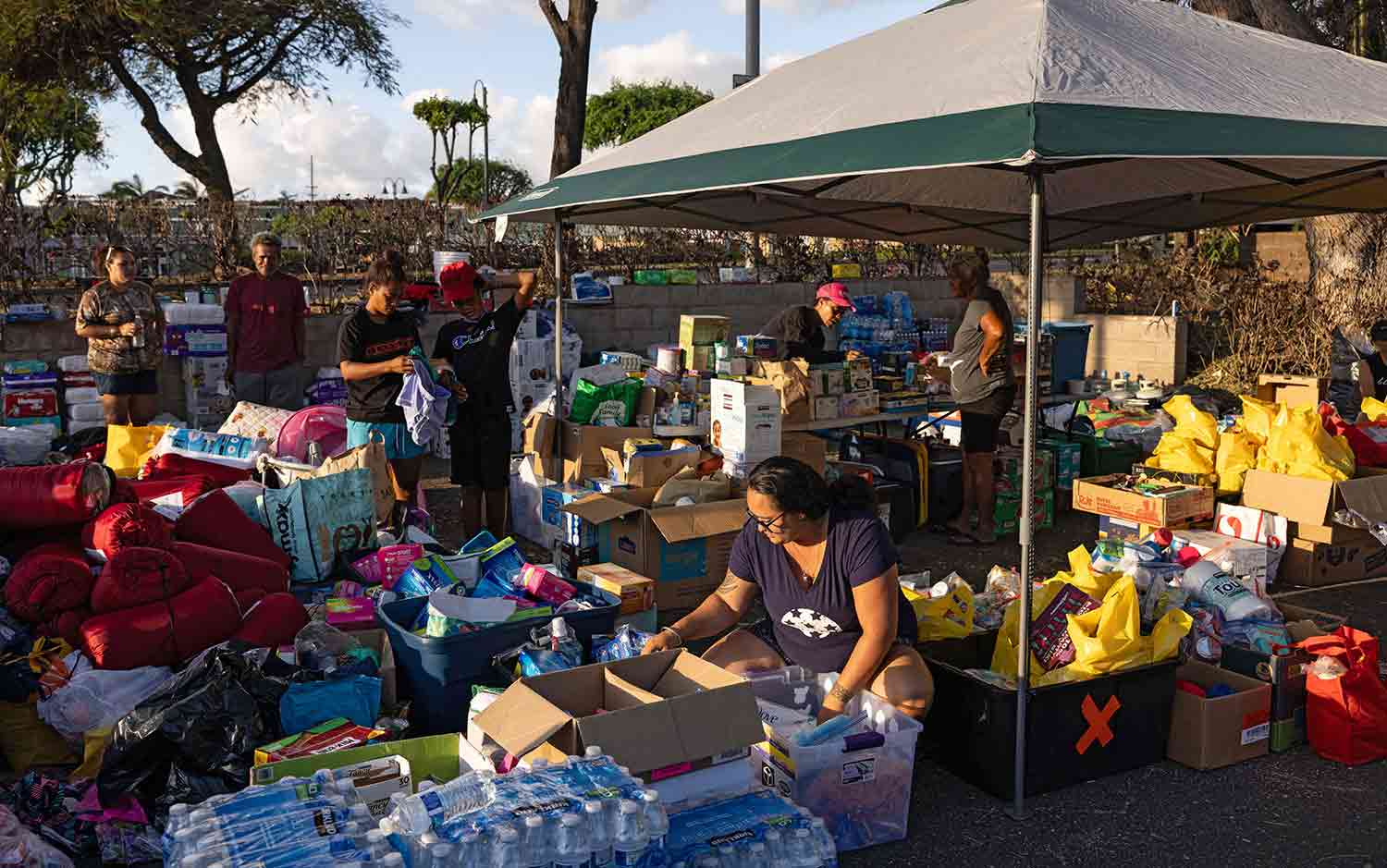 Yuki Iwamura—AFP/Getty Images
Volunteers sort through donations given to help those affected by the fire in Maui.
Relief workers, volunteers, and celebrities rushed to help after a fire devastated part of the Hawaiian island of Maui. The blaze, which ignited on August 8, 2023, killed at least 100 people and destroyed thousands of buildings, including many homes.
The fire left many people homeless and in need of food, shelter, and basic supplies. Local charitable organizations are helping, many of them with assistance from national and international organizations like the American Red Cross. For example, the Maui Strong Fund collects donations and distributes the money to organizations that provide shelter, food, and financial help. A group called Chef Hui brings together chefs, farmers, and others in the food industry who are willing to supply food and prepare meals for people in need.
Help has also come from the mainland. Americans from many states have sent supplies or money to Maui. Workers with the American Red Cross and other organizations have flown from their home states to the island to help in any way they can.
"They've lost everything," Andrea Webb, who works with the American Red Cross of New Jersey, told CBS News in New York, after landing in Hawaii. "They need some kind of help with anything even if it's a hug, a kind word."
Celebrities have brought attention to the disaster as well. Actor Matthew McConaughey announced he would pay for a plane to fly supplies to Maui. Famed surfer Archie Kalepa and some volunteers are distributing supplies from the front yard of Kalepa's Maui home. And actor Auliʻi Cravalho, who is Native Hawaiian, created an Instagram post urging fans to make donations.
If you are interested in helping, make sure your donation will get to the people of Maui. Ask an adult to help you find a trusted charitable organization.