A wall painting that was created about 2,000 years ago shows what looks like a pizza. But did pizza exist back then?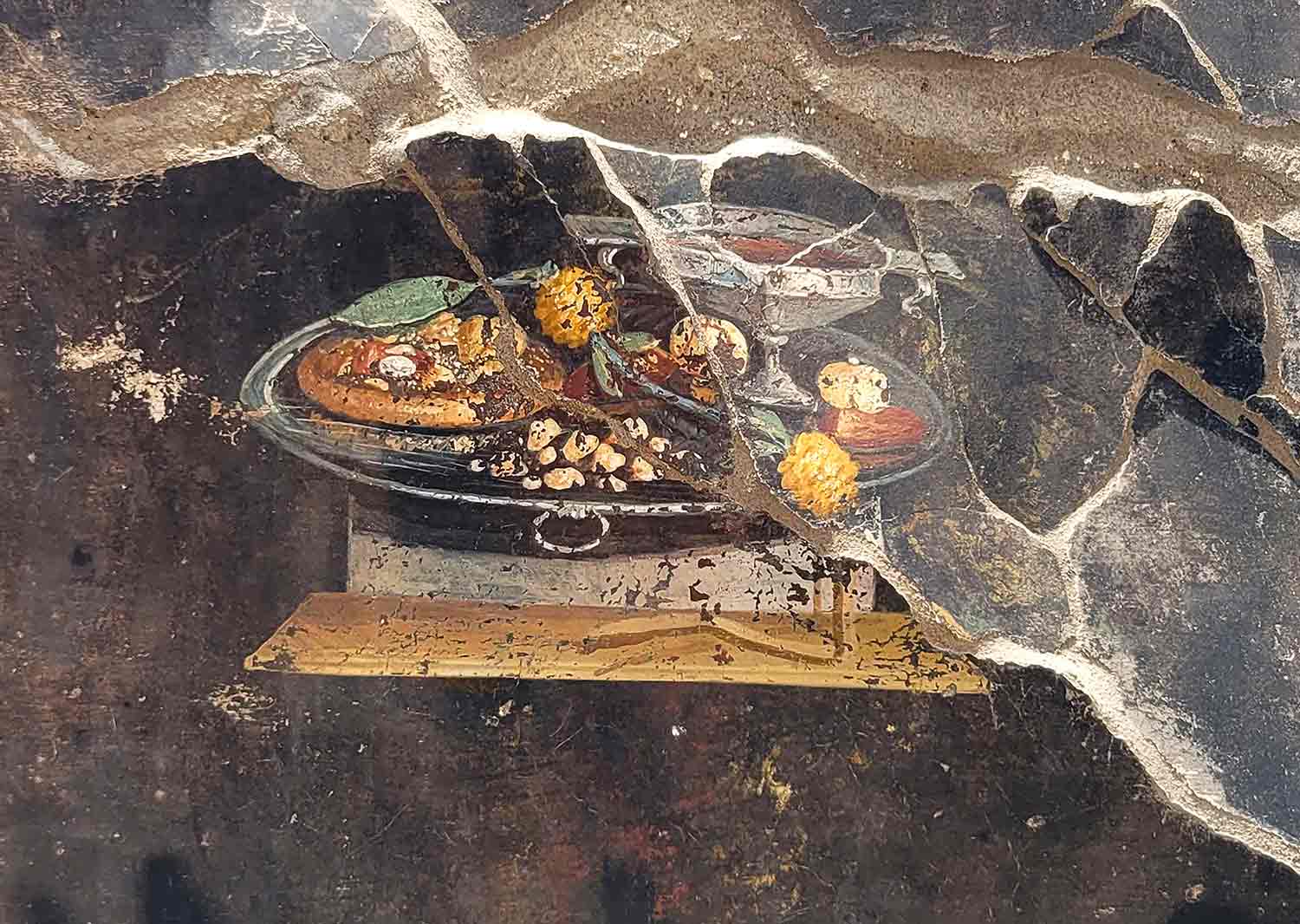 Courtesy of the Archaeological Park of Pompeii
Is that a pizza on the left side of the silver tray?
Workers excavating the ancient city of Pompeii, in Italy, recently unearthed a fresco (a wall painting) showing a tray of food that includes a round, flat bread covered in toppings. The discovery has anthropologists, historians, and foodies alike wondering: Is that a pizza?
Today, pizza is among the world's most popular foods. It's not surprising to see it on a restaurant menu or at a party. But the fresco was painted about 2,000 years ago—long before modern-day pizza was thought to be invented. 
People who have studied the "pizza" say its true identity lies in the details. It appears to be a focaccia, which is a type of flat bread that originated in Italy, probably thousands of years ago. It's topped with spices as well as a pomegranate and possibly a date. But something is missing. 
The pizza in the painting doesn't have tomatoes or mozzarella cheese. Historians say people in Pompeii wouldn't have known either of those ingredients. Mozzarella wouldn't have been invented yet. As for tomatoes, they originated in the Americas and weren't brought to Europe until about 400 years ago. Europeans avoided eating tomatoes for a long time after that, possibly because they believed tomatoes were poisonous!
Without tomatoes and mozzarella, does the food in the fresco qualify as pizza? Not according to a statement from the Archaeological Park of Pompeii.
"Whilst it looks like a pizza, this image from a Pompeian painting from 2,000 years ago obviously can't be, since some of the most characteristic ingredients are missing, namely tomatoes and mozzarella," the statement said.
But Gino Sorbillo, who owns one of the oldest pizza restaurants in Naples, which is near Pompeii, says it's definitely a pizza. He says that, even today, people use all sorts of toppings on pizza and still call their creations pizza. 
"It was an ancient form of pizza," Sorbillo told the Guardian. "[Today] you can use fruit, for example figs, or strawberries, if it's a sweet pizza."