Scientists say fish can actually do math!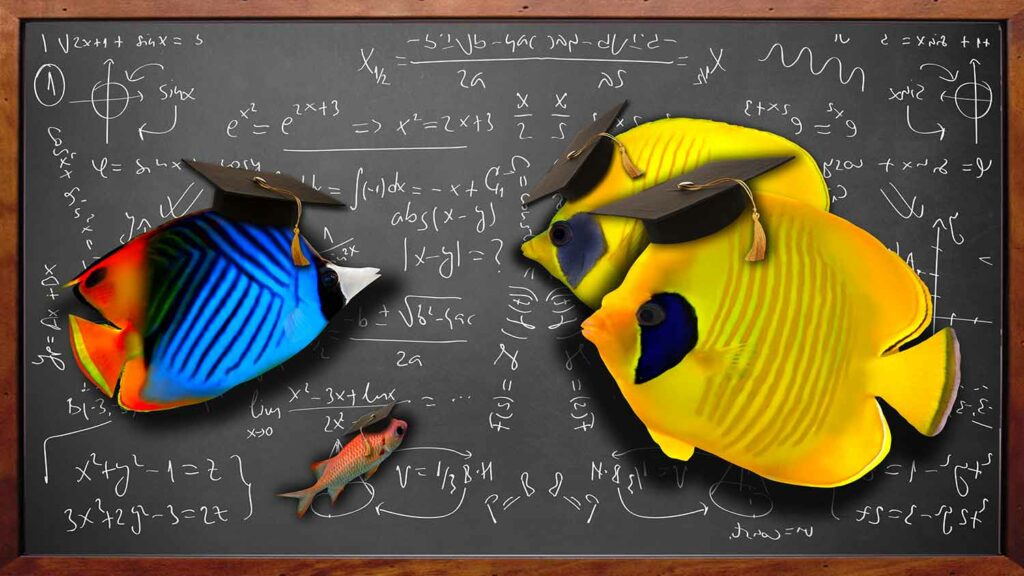 © Africa Studio/Shutterstock.com; Fabio Balbi/Alamy; © vlad61_61/stock.adobe.com; Photo illustration by Encyclopædia Britannica
A group of scientists say they were able to train fish to do math.
No, this does not mean your pet goldfish can help you with your fractions. But in a recent study, stingrays and cichlids (a species of freshwater fish) demonstrated basic numerical skills.
"We trained the animals to perform simple additions and subtractions," said Vera Schluessel of the Institute of Zoology at the University of Bonn in Germany.
Here's how the study worked: Each fish was shown an image with between one and five shapes. The shapes were always either yellow or blue. Blue meant "add one to the number of shapes in the image," while yellow meant "subtract one from the number of shapes in the image." So, an image with three blue shapes meant "three plus one." And an image with four yellow shapes meant "four minus one." The fish would then be shown two new images and have to swim to the correct one. For example, a fish shown three blue shapes, or "three plus one," had to swim to the card with four shapes.
Scientists trained the fish to do some simple problems by giving them treats when they got correct answers. Then it was time to test whether the fish really understood the concepts of addition and subtraction. The scientists did this by presenting the fish with problems they hadn't seen before. The fish got most of the new problems right.
Some scientists not involved in the study think the results are a little…fishy. Or, at least, they question whether the fish were actually doing math. But the study authors say their findings provide clear evidence that these animals can add and subtract.
Looks like fish smarts are off the scales!