Writer, photographer, and filmmaker Benjamin Mack-Jackson's images of Ukraine tell the story of a war.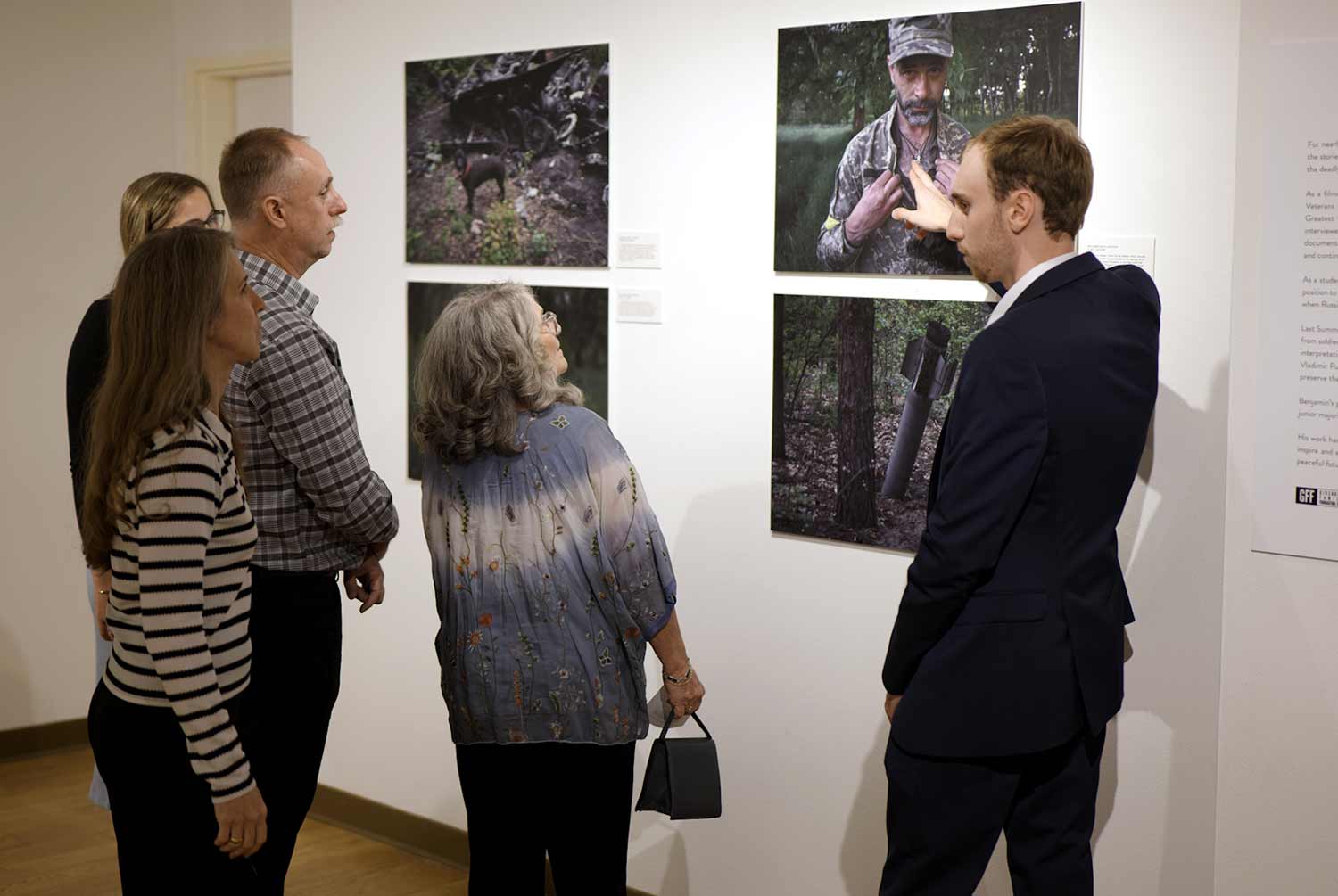 Benjamin Mack-Jackson (right) discusses his photos of Ukraine, which are on display at the Orlando Museum.
Benjamin Mack-Jackson wants people's stories to be heard. In the summer of 2022, the 20-year-old Rollins College student traveled to Ukraine to document the stories of the people experiencing the war there. Nineteen of the photos he took are now part of an exhibit called Relentless Courage: Ukraine and the World at War, at the Orlando Museum of Art in Orlando, Florida.
The weary faces and shelled-out buildings in Mack-Jackson's images document a nation that has persevered through terrible loss. Soldiers are shown, as well as refugees—people forced to leave Ukraine for their own safety and security. When the photos first went on display, in February 2023, it had been about one year since Russia had invaded Ukraine, igniting the war that continues to this day. Mack-Jackson says it's important for people around the world not to forget this conflict and others.
"These are people just like you and I that are fighting and dying every single day," he told WESH News in Orlando.

All photos © Benjamin Mack-Johnson
Benjamin Mack-Jackson (center photo) took images of the effects of the war in Ukraine.
Mack-Jackson has already carved out a wide-ranging career as a documentarian—a teller of true stories. In 2015, he founded the WWII Veterans History Project, an organization dedicated to preserving the memories of World War II veterans. Through the project, he has interviewed more than 100 veterans and created a documentary called Normandy Revisited. In 2021, as part of his effort to make sure new generations understand the cost of war, Mack-Jackson wrote a book called World War II History for Teens.
"My mission is to preserve the history of war so that things like this aren't repeated," Mack-Jackson told WESH. 
Mack-Jackson's Ukraine photos will be on display through March 19, 2023.