Could This Tree Be 5,000 Years Old?
A scientist says a tree in Chile may be the oldest tree in the world!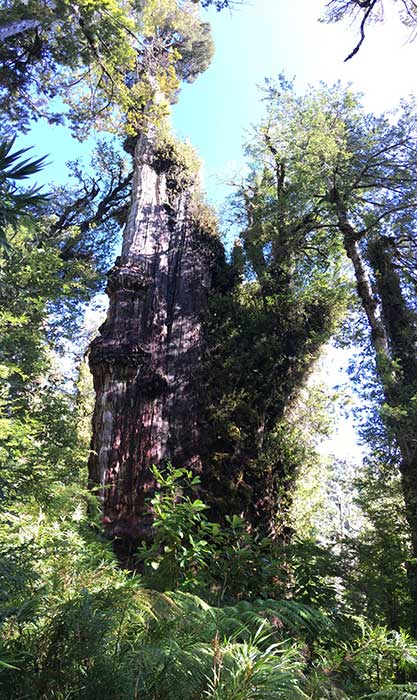 Scientists say a cypress tree in Chile might be the oldest tree in the world. They calculate that the tree is more than 5,000 years old!
Known as Great Grandfather, the Patagonian cypress tree (also called an alerce) is located in Chile's Alerce Costero National Park. Dr. Jonathan Barichivich, a scientist from Chile who lives in France, first tried to estimate the tree's age by taking a small sample of wood from its trunk. This method usually allows experts to tell how old a tree is by showing how many rings the tree has. But the sample Barichivich got did not capture all of the tree's rings because its trunk is just too wide! So Barichivich used a computer to compare the tree to some other very old trees whose ages are known. He estimates that Great Grandfather is up to 5,484 years old. Barichivich adds that, according to his research, there is only a 20 percent chance that the tree is less than 5,000 years old. 
Until now, experts believed that Methuselah, a bristlecone pine tree in California, was the oldest tree on the planet. Methuselah's age has been calculated at 4,853 years old. If Barichivich is correct, it would mean that Great Grandfather could be more than 500 years older than Methuselah!
But while the tree has survived for thousands of years, scientists say it faces threats now. Climate change is making the area where the tree is located drier, causing harm to the tree. Plus, Great Grandfather attracts visitors who step on its roots and strip away pieces of its bark. The locations of many other ancient trees, including Methuselah, have been hidden from the public so that no one will damage them.
Great Grandfather has had quite a past. Barichivich wants it to have a future, too.
Telephone – Photos.com/Getty Images Plus; Colosseum – © Sborisov/Dreamstime.com; Viking – © Nejron/Dreamstime.com; Web browser – © David Sailors—Corbis Documentary/Getty Images; Pyramids – © sculpies/stock.adobe.com