Ilia Malinin is the first figure skater to land a quadruple axel during a competition.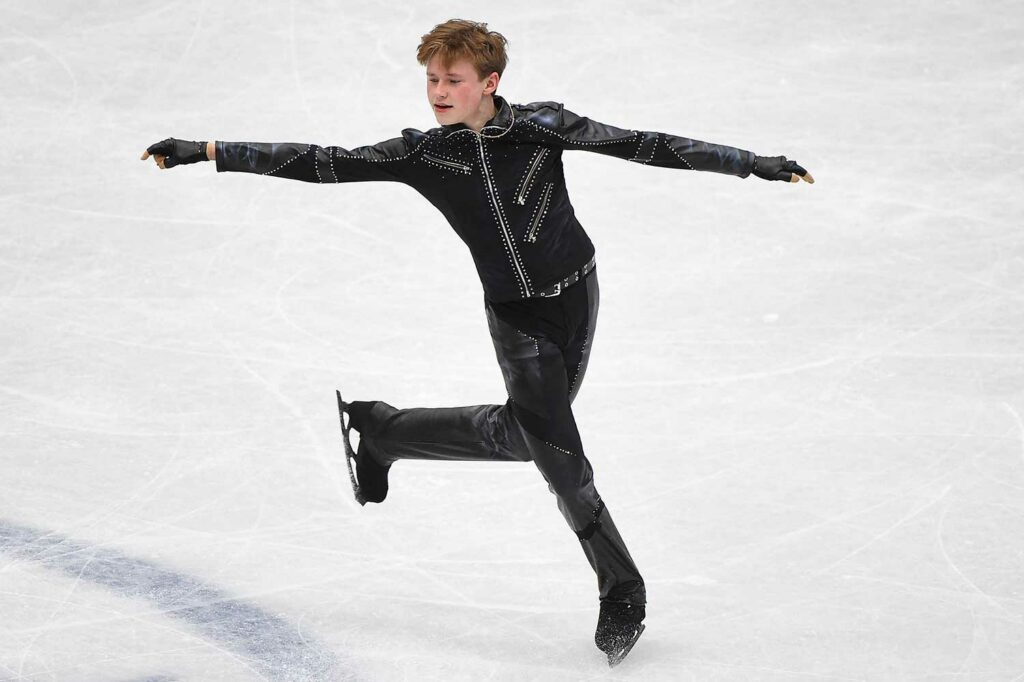 Sylvain Thomas—AFP/Getty Images
Ilia Malinin doesn't just ice skate. He flies! Malinin can jump off the ice, rotate (turn) his body four and a half times, and land on one foot. This type of jump is called the quadruple (quad) axel. In September, 17-year-old Malinin became the first figure skater ever to land a quad axel in a competition. 
Malinin, who is American, landed the jump at a skating competition called the U.S. International Classic. He said he had done the quad axle many times during practice. But he wasn't sure if he'd be able to do it during a competition, with so many people watching. 
"When I'm practicing [the quad axel], it's pretty easy for me to figure out how to get the right timing and everything…," Malinin told reporters. "To do it in competition is a different story because you have nerves and pressure…. So I have to treat it like I'm at home, and it feels pretty good."
Figure skaters have been landing quadruple jumps for many years. But the quad axel is the most difficult of all the jumps. Why? Most kinds of quad jumps require the skater to rotate their body four times. With the quad axel, the skater takes off moving forward and lands moving backward. That means the skater has to rotate their body four and a half times!
At the 2022 Winter Olympics in February, Japanese skater Yuzuru Hanyu tried a quad axel. Hanyu had been able to complete the jump in practice, but he fell when he tried it in the competition. Malinin was impressed that Hanyu tried the jump. It made him want to try it, too. 
Skating fans are excited about Malinin. He won the silver medal at the U.S. National Championships last season. He's also a junior world champion. Could the 2026 Olympics be next?