Meet This 14-Year-Old Artist!
All over the world, people love Xeo Chu's paintings.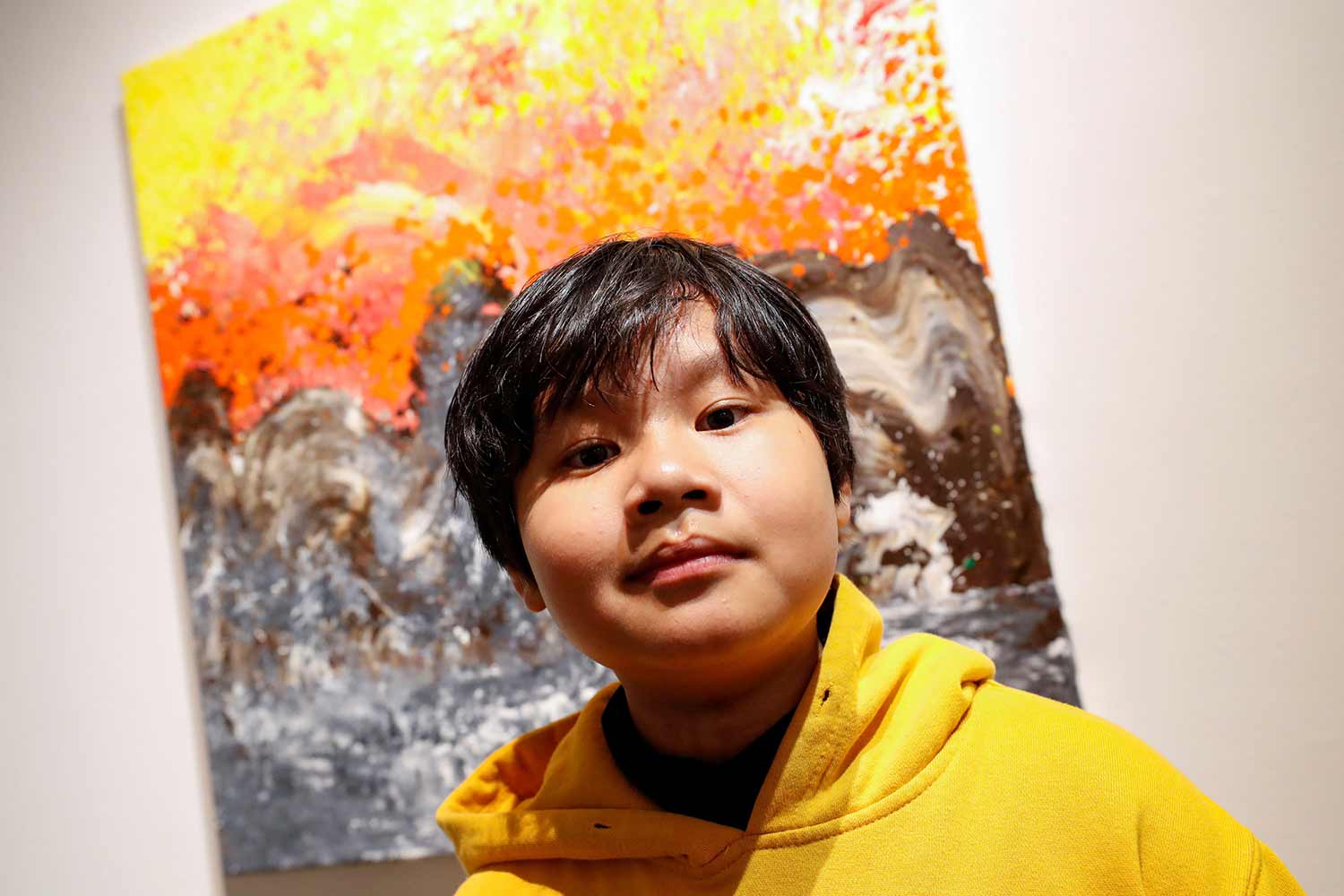 Shannon Stapleton—Reuters/Alamy
In this 2019 photo, Xeo Chu poses in front of one of his paintings.
Fourteen-year-old Xeo Chu is a talented artist. His paintings have been in art shows all over the world. But Xeo Chu says he doesn't really care about fame. He just loves to paint.
Xeo Chu, who lives in Vietnam, started painting when he was 4 years old. His mom was taking his two older brothers to their art class. Xeo Chu wanted to go to art class, too. Once he started painting, he didn't want to stop. 
Xeo Chu's mom, who owns two art galleries (places where art is shown and sold), thought her son had a special gift. Pretty soon, it was clear that other people agreed. When Xeo Chu was about 6 years old, his mom hung a painting of his in one of her galleries and someone bought it. When people heard about Xeo Chu, they also wanted to see his paintings. Xeo Chu had his first art show when he was 10. Since then, his art has been shown and sold all over the world. 
Xeo Chu's paintings show flowers and fields and big, swirling seas.
"I love nature," he told the Guardian. "That is what I find beautiful. I want to draw and paint what I see."
Some art experts say Xeo Chu's paintings are a lot like the paintings of Jackson Pollock, an American artist who lived in the 20th century. Like Pollock's paintings, Xeo Chu's work sells for a lot of money.
But Xeo Chu says he doesn't paint because he wants to make money. In fact, he donated some money to hospitals so they could buy more medical equipment. He has also given money to help children and the elderly.
"Knowing that I can use the money I make for good, I didn't hesitate a single second to help them," Xeo Chu told Vietnam Life.