Nine-Year-Old Finds Giant Shark Tooth
Nine-year-old Molly Sampson discovered the fossil of a shark tooth that's bigger than her hand!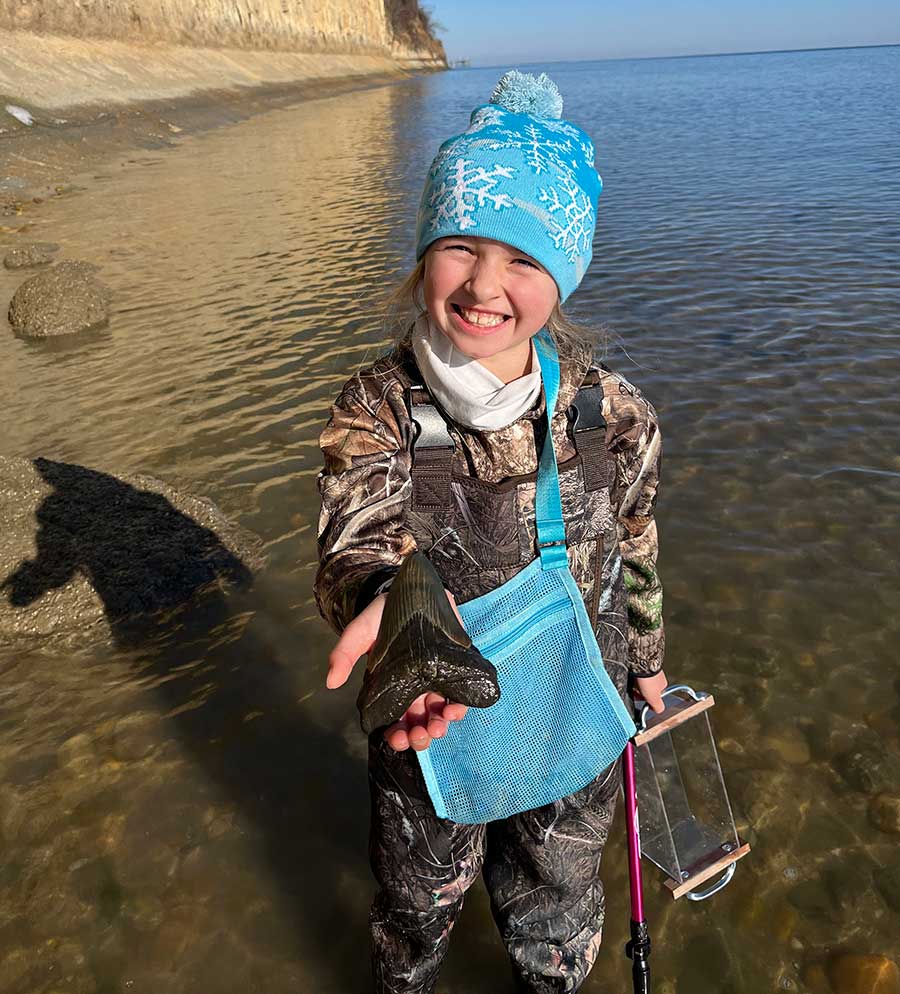 Alicia Sampson (www.thefossilgirls.com, Instagram: @fossilgirls_md)
Molly Sampson shows off her discovery, a megalodon tooth fossil.
Molly Sampson has always loved fossils, especially fossils of shark teeth. In December 2022, Molly, who is 9, spotted one of the biggest shark tooth fossils you can find. The 5-inch (13-centimeter) tooth had once belonged to a giant shark species called megalodon. Megalodons lived millions of years ago. Today, megalodons are extinct, meaning they have all died out. 
Molly discovered the megalodon tooth on a beach in Maryland. She and her older sister were wading in the Chesapeake Bay and using tools called fossil sifters. With the sifters, they were able to sift through sand and see if there were any fossils in it. The sisters hoped to find shark teeth, but they had no idea what was waiting for them. Standing in water up to her knees, Molly spotted the amazingly large tooth.
"I went closer, and in my head, I was like, 'Oh, my, that is the biggest tooth I've ever seen!'" Molly told National Public Radio (NPR). "I reached in and grabbed it, and dad said I was shrieking."
About a week later, the family took the fossil to a museum. Experts at the museum studied the fossil and said Molly was right. It was a real megalodon tooth!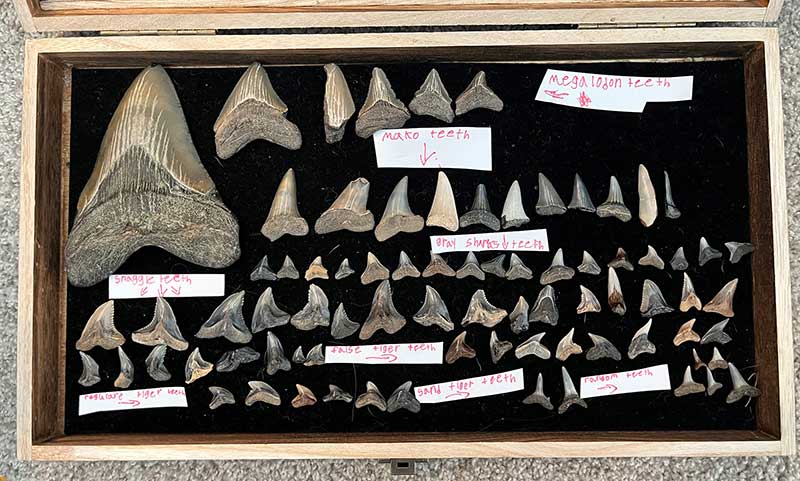 Alicia Sampson (www.thefossilgirls.com, Instagram: @fossilgirls_md)
So far, Molly has collected more than 400 shark teeth! This is just part of her collection.
Molly has been searching for fossils with her dad and sister since she was very young. She wants to be a paleontologist when she gets older. (A paleontologist is a scientist who studies fossils.) Her family records Molly and her sister's discoveries on an Instagram account. They hope to inspire other kids to explore the outdoors.
At 9 years old, Molly has already done tons of exploring!