Scientists Get Help From Sharks
Scientists are learning more about the ocean with the help of some sharks!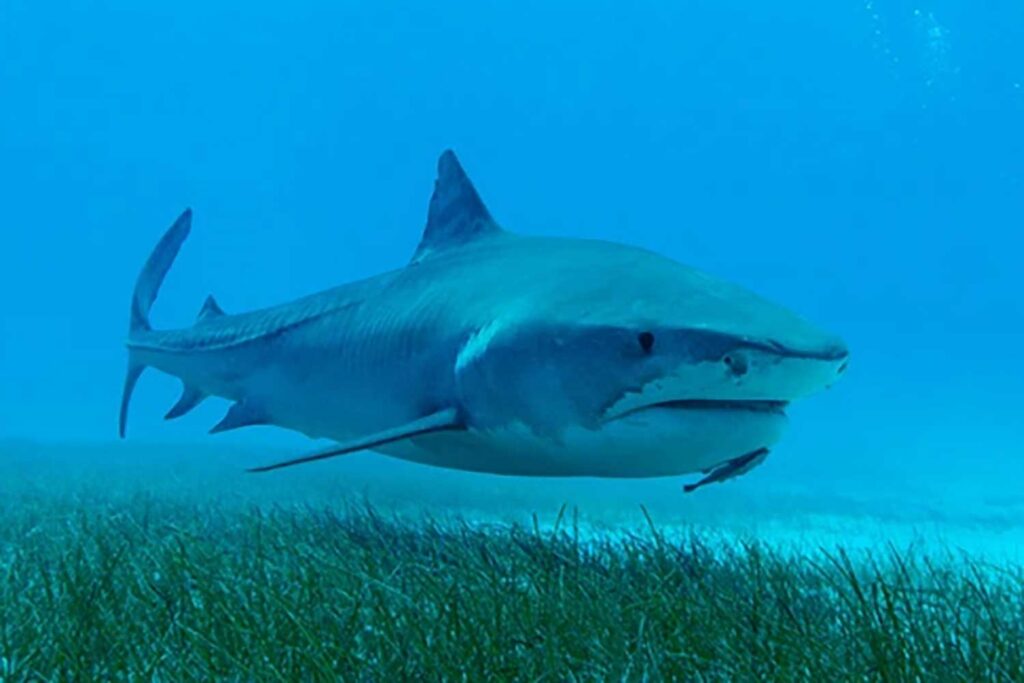 Gallagher, A.J., Brownscombe, J.W., Alsudairy, N.A. et al. Tiger sharks support the characterization of the world's largest seagrass ecosystem. Nat Commun 13, 6328 (2022). (CC BY 4.0)
It's not always easy for people to explore the ocean. So scientists studying seagrass (grass that grows in the sea) decided recently to get some helpers. They attached cameras and other equipment to tiger sharks!
The team of scientists wanted to know how much seagrass is growing in an area of ocean near a group of islands called the Bahamas. They attached cameras or tracking equipment to 15 tiger sharks. The sharks were then released and swam around as they normally would. The cameras and equipment were designed to fall off the sharks within about 24 hours.
The pictures and other information captured by the equipment show that the patch of seagrass near the Bahamas is as large as 35,521 square miles (92,000 square kilometers). It might be the largest patch of seagrass on the planet!
Scientists say it's important to know where there's seagrass. Like forests, seagrass takes in carbon dioxide, which means it plays a big part in controlling climate change.
Before the study, scientists didn't know how large the patch of seagrass was. In fact, there is still a lot that humans don't know about the ocean because it can be hard to explore. Thanks to the sharks, we're learning more. The size of the seagrass patch is good news for the climate.