Jeans that were made in the late 1800s were found in an old mine. And they look a lot like today's jeans!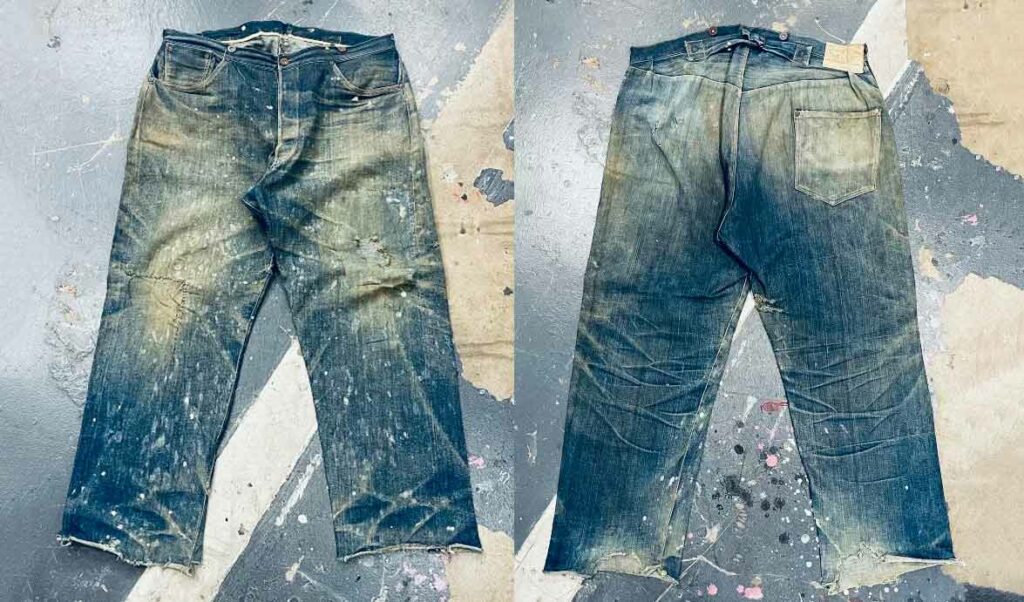 These Levi's jeans were made in the 1880s. These are not the jeans that were found by Frank Schlichting—but they're a lot like them!
When do you think people started wearing jeans? A museum in Yuma, Arizona, is home to some VERY old jeans. They were made in the late 1800s!
The seven pairs of jeans were discovered by Frank Schlichting in February 2020, in a nearby mine that is no longer in use. Schlichting explores many mines and makes YouTube videos of his adventures. The museum owns the mine near Yuma and had given Schlichting permission to explore it.  
The YouTube video of the discovery shows Schlichting and Gabe Romo, who works with him, going 250 feet (76.2 meters) underground, into the mine where they had previously discovered the jeans under some rubble. The two men then use a pickaxe to uncover the seven pairs.
The jeans would have been worn by men who worked in and around the mines. Invented in 1873, blue jeans were designed to be worn by miners because they were less likely to be damaged than other types of pants. Jeans were, and still are, made from tough denim. Rivets (those little metal things) are used to hold together the fabric and prevent tearing. Styles have changed over the years, but the jeans worn by miners looked a lot like the jeans we wear today!
Jeans from the 1800s are extremely rare, making them very valuable. In October 2022, a pair of jeans from that time period sold for $87,000.
But the jeans Schlichting found won't be sold. Instead, they'll be kept at the Castle Dome Museum, near where they were found.