A man walked high above a crowd–on a tightrope!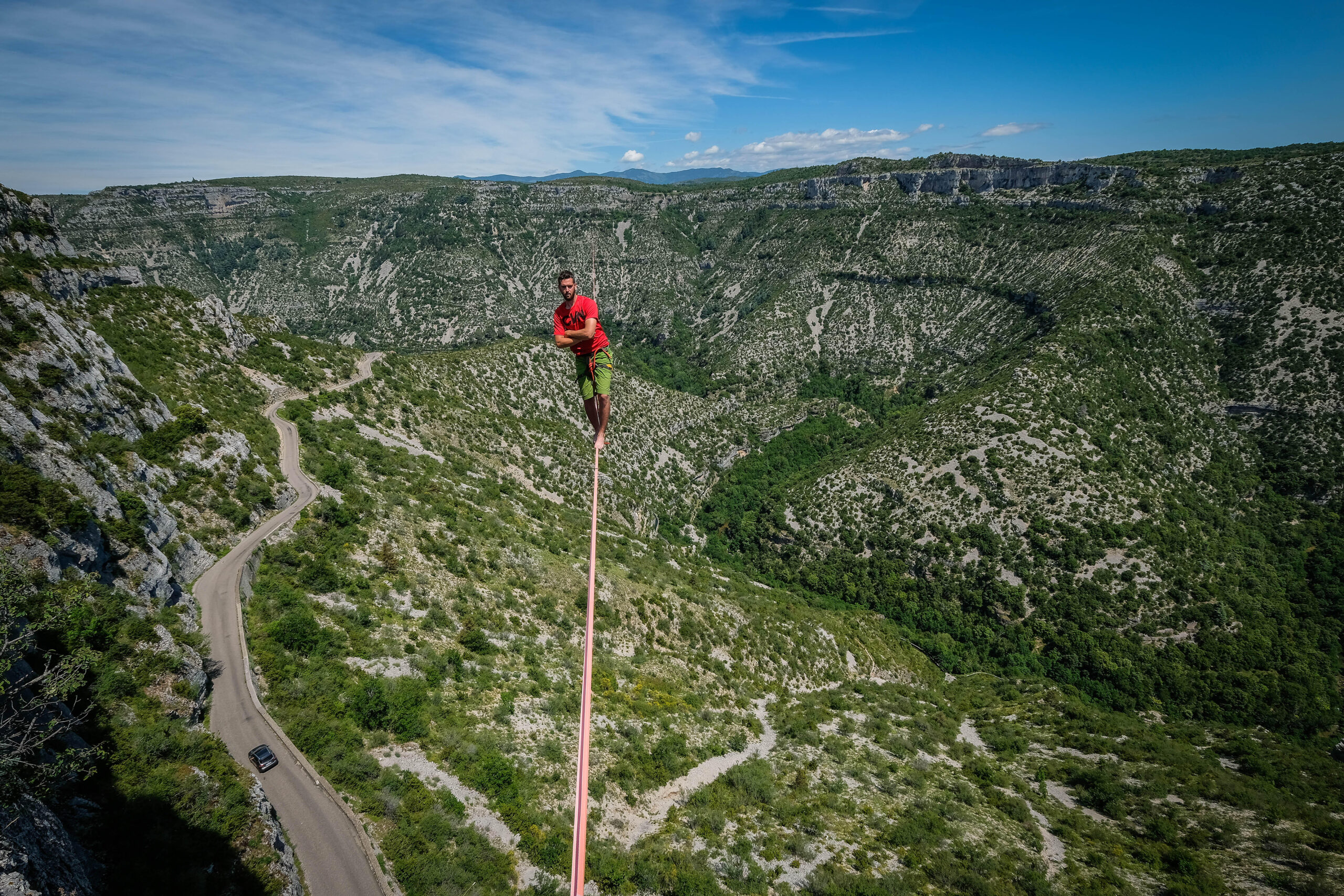 This photo of Nathan Paulin walking on a very high tightrope was taken in 2017.
On May 24, a crowd gathered on the French island of Mont-Saint-Michel to witness a strange sight. High above them, a man was walking on a very long tightrope! The man, Nathan Paulin, walked—and sometimes wobbled—his way across the 0.8-inch (2-centimeter) wide slackline for 1.4 miles (2.2 kilometers). It was the longest tightrope walk ever!
The record-breaking walk took place on a slackline that was tied to a crane at one end and a very old building called the Mont-Saint-Michel Abbey at the other. The line was more than 300 feet (100 meters) off the ground, and it swayed back and forth in the wind as Paulin made his way across. Paulin, who was attached to a harness for safety reasons, took his time, carefully placing his foot with each step. The walk took two hours to complete! 
Just before he reached the end, Paulin lost his balance and slipped off the line. (He caught the line with his hands.) By the time he slipped, Paulin had already broken the record. 
Paulin, 28, is a pro at this sort of thing. According to his website, he's been making his way across tightropes since he was a teenager, and he has done many attention-grabbing walks high above famous places. In 2017, Paulin and two others walked across a 1.0-mile (1.7-kilometer) tightrope above a valley in a French mountain range. And in 2021, he walked 1,969 feet (600 meters) on a line that stretched above the city of Paris from the Eiffel Tower to the Chaillot theater.
Paulin hopes to set more records in the future.
"My next dream—I hope to be able to do it—would be to walk between the Eiffel Tower and Montparnasse Tower," he told Euro News. That's a distance of 1.7 miles (2.7 kilometers).