Biden Reduces Student Debt
President Joe Biden has announced that millions of people who borrowed money to go to college will have their debt reduced.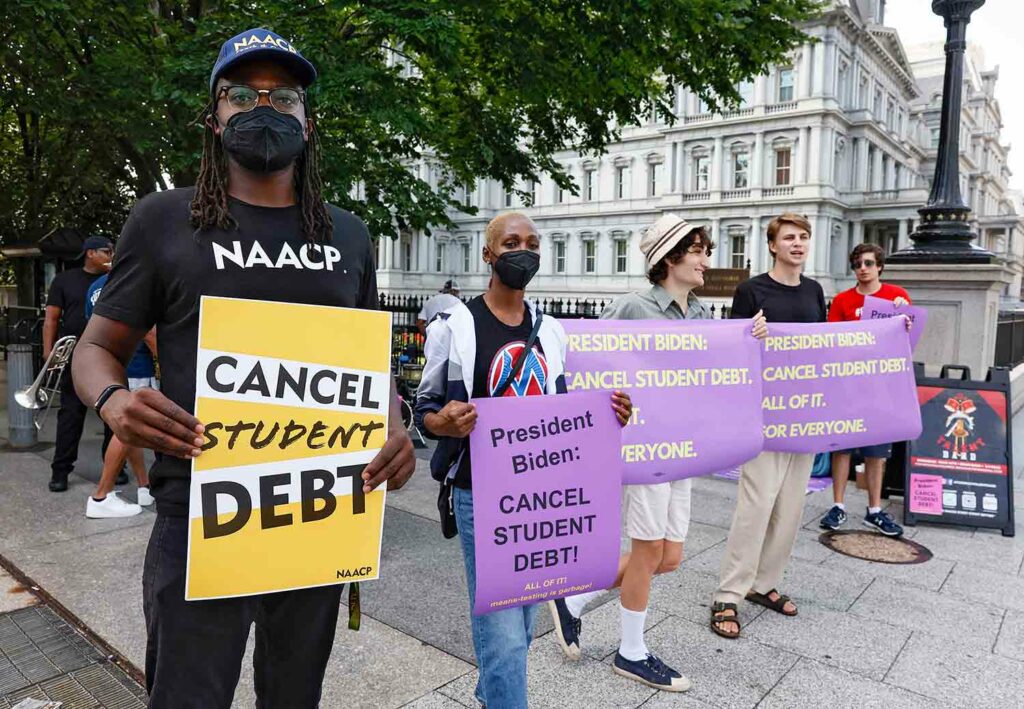 Jemal Countess/Getty Images Entertainment
In July 2022, student loan debt holders took part in a demonstration outside of the White House to demand the cancellation of student debt.
President Joe Biden has announced that millions of people who borrowed money to pay for college will have their debt canceled or reduced. The plan will affect more than 40 million people, and up to 20 million people could see their debt wiped out completely.
The Biden administration will cancel up to $10,000 in federal student loans (student loans offered by the federal government) for individuals who make less than $125,000 a year or families with an income of up to $250,000 a year. People who received a Pell Grant, which is federal money available to students from low-income families, will be eligible to have an additional $10,000 in debt canceled if their current income is under the limit.
About 8 million people will see their debt reduced or canceled automatically because the government has information on their income levels. Others will need to apply for debt forgiveness at a government website.
The cost of college has risen much faster than the average U.S. income in the past few decades, leading many people to borrow money in order to pay for their education. Currently, Americans owe more than $1.6 trillion in federal student loans. The Biden administration says reducing or canceling loans for lower- or middle-income people will make it easier for them to buy homes, start businesses, or save for retirement. 
News of President Biden's debt-reduction plan led to a variety of reactions. Some pointed out that the plan doesn't address the root of the problem: the cost of attending college. Others said that people who choose to go to college should pay their own way, without help. According to multiple polls, however, most Americans support the plan. Pamela Bone, who borrowed money to earn a master's degree in special education, told CNN that debt reduction means a brighter tomorrow for her family.
"The cancellation of this debt means that I can put more aside for my daughter's future, to ensure a life that is comfortable and meaningful for us both, and [it's] something that I am truly thankful to receive," said Bone.