Nervous delegates, arguments, and a heat wave. These were just a few of the things the Founders dealt with as they wrote the United States Constitution.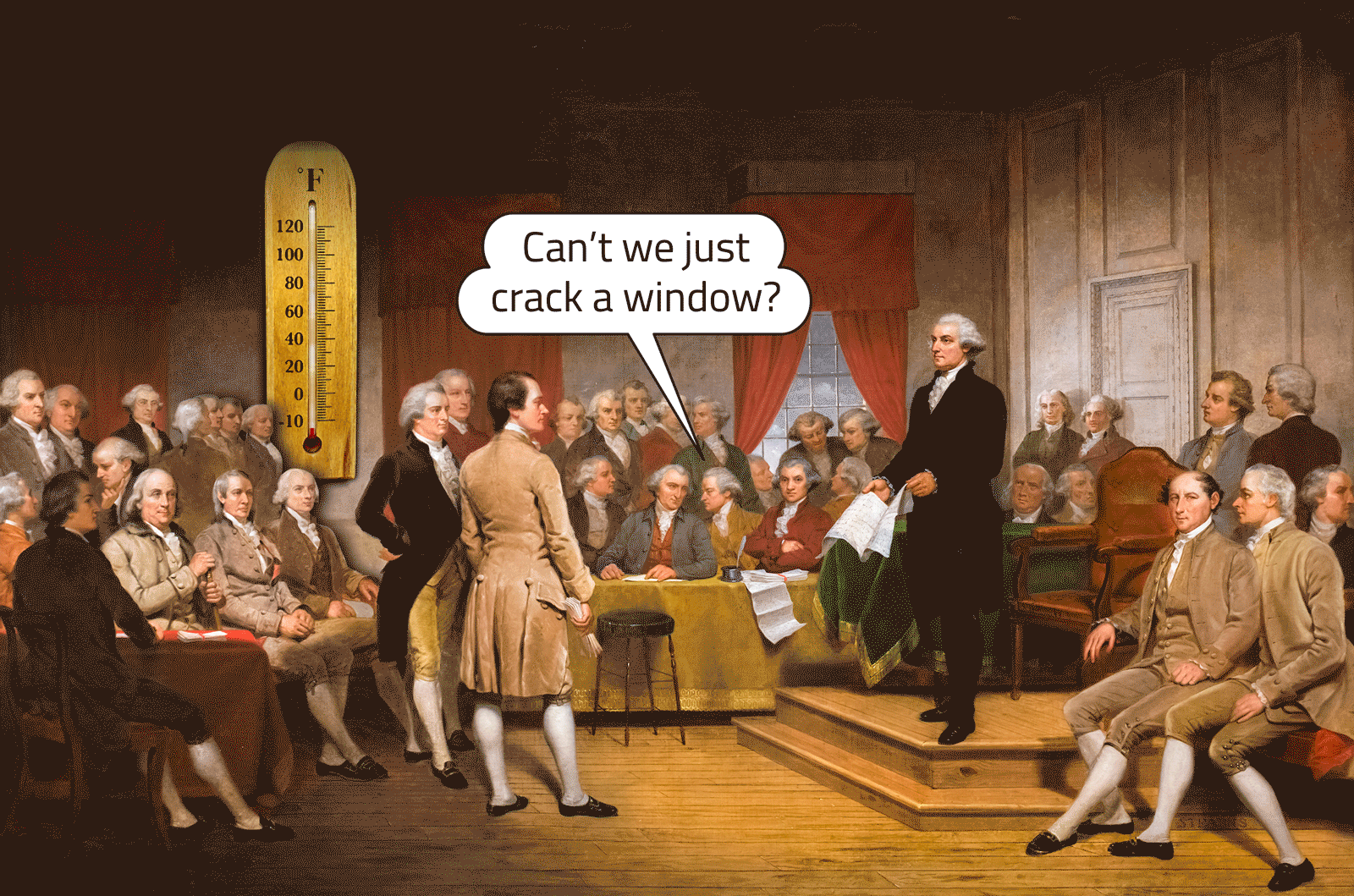 Ian Dagnall/Alamy, © Hakiagena/Dreamstime.com; Animation Encyclopædia Britannica, Inc.
The United States wouldn't be the United States without the Constitution. For 235 years, the U.S. Constitution has been the foundation for the nation's government and laws. Getting such a significant document written was a tall order—and it wasn't all smooth sailing.
Here are a few little-known facts about the writing of the Constitution.
The delegates didn't agree on everything.
The Constitution was written at the Constitutional Convention, a meeting that took place in Philadelphia, Pennsylvania. Twelve states sent delegates, or representatives, to the convention. The delegates argued over issues such as how powerful the national government should be, how many representatives each state should have in Congress, and whether slavery should be legal. 
The Constitution made some people nervous.
Plenty of Americans were worried that the Constitution would create a federal (national) government that was too powerful. (Remember, they had just fought a war to rid themselves of a powerful king.) The government of Rhode Island opposed the idea of the Constitution so strongly that it refused to send a delegate to the convention. Later, the Bill of Rights was written in order to prevent the federal government from violating Americans' liberties.
It was summer, and it was hot.
The convention took place during a hot and humid Philadelphia summer at a time before air conditioning or even electric fans existed. There was no fresh air wafting through the Pennsylvania State House—the delegates kept the windows closed so passersby wouldn't hear their debates. In their long-sleeved shirts, suits that were often made of wool, and stockings, the delegates must have been miserable. It's fair to say that the building probably didn't smell that great! 
The Constitution cost $30 to write.
The delegates needed someone with great handwriting to put the words of the Constitution on paper. They paid a clerk named Jacob Shallus $30 ($955 in today's money) to do the job. It took Shallus about 40 hours to complete the document.
Some of the words are spelled wrong.
At the time of the Constitutional Convention, there was no standard way to spell words in English. Because of this, some of the words in the Constitution aren't spelled the way we'd spell them. For example, choose is spelled chuse, while Pennsylvania is spelled Pensylvania.