Extreme heat is affecting many parts of the world—even places where summers are not usually very hot.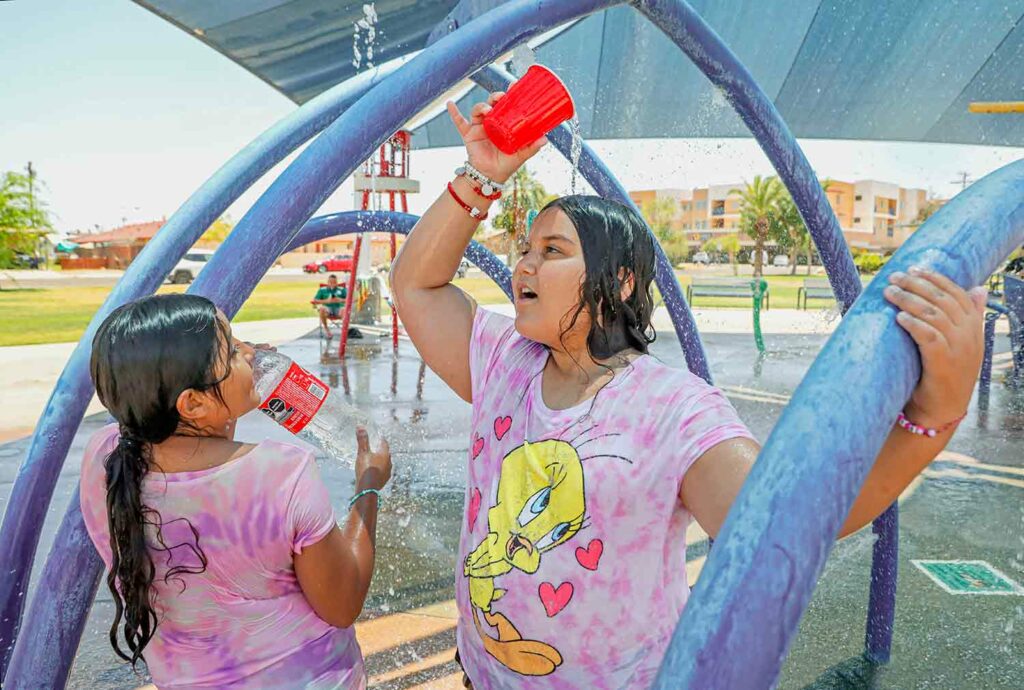 Two sisters played at a water park in California on June 12, 2022, when the temperature reached 115 degrees Fahrenheit (46 degrees Celsius).
© Sandy Huffaker/Getty Images News
If you live in the Northern Hemisphere, chances are you've been experiencing a very hot summer. Extreme heat has gripped parts of North America, Asia, and Europe—even in places where summers are normally mild. 
One country where the temperature has soared is the United Kingdom (U.K.). In July, parts of the U.K. experienced several days with temperatures higher than 90 degrees Fahrenheit (32 degrees Celsius). At the peak of the heat wave, on July 19, 2022, some areas reached just over 104 degrees Fahrenheit (40 degrees Celsius). This was the hottest temperature ever recorded in the U.K. 
Summer temperatures regularly get into the 90s and even climb above 100 degrees in parts of the U.S. and other countries. But hot weather is not the norm in the U.K., where summer high temperatures average in the 60s and 70s Fahrenheit (teens and 20s Celsius). As a result, the country's structures aren't built to withstand high temperatures. As the heat wave of 2022 continued, asphalt and concrete expanded and buckled, forcing officials to close roads and airport runways. 
U.K. government officials urged people to stay home, warning them that being outdoors for too long could be dangerous. But being indoors did not necessarily bring relief. Only about 5 percent of homes in the U.K. are air conditioned. Some people found refuge at shopping centers and offices, many of which are air conditioned. 
Recent heat waves have caused chaos even in places that are more accustomed to high temperatures. In Chongqing, China, for example, unusually high temperatures caused the roof of a museum to begin to melt. In Fort Worth, Texas, heat combined with a lack of rain caused the ground to shift, leading to water main breaks, which is when pipes carrying city water supplies crack. In parts of Europe, hot and dry conditions led to destructive wildfires.
Will next summer be cooler? It's hard to say. 
While extreme heat waves used to be unusual, scientists say that's no longer true. Climate change is changing everything. In July, the World Health Organization (WHO) said that as global temperatures rise, heat waves, along with other extreme weather, will become increasingly common. Scientists are concerned about the effect that high temperatures will have on agriculture as well as human health.
"The best solution to this will be…being very ambitious on tackling the causes of this global warming," said Dr. María Neira, director of the Department of Public Health and Environment at the WHO.