This Minecrafter Thinks Big
Eighteen-year-old Christopher Slayton used a video game to recreate the whole universe.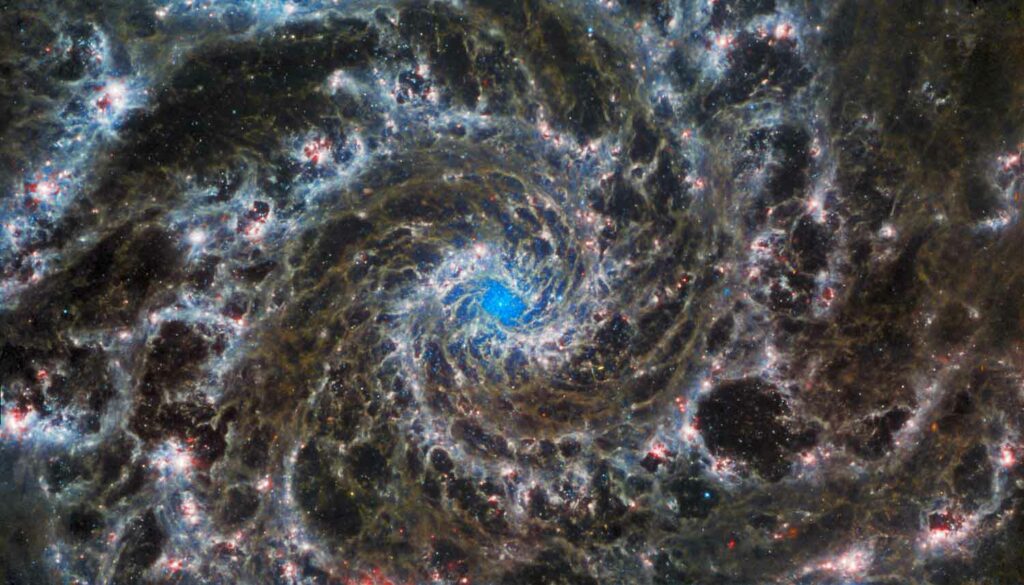 ESA/Webb, NASA, CSA, J. Lee, and the PHANGS-JWST Team; acknowledgment: J. Schmidt
This photo of the Heart of the Phantom Galaxy was captured by the James Webb Space Telescope. Christopher Slayton recreated galaxies and much more.
An 18-year-old used the video game Minecraft to recreate the entire universe—or, at least, what's known of it.
Christopher Slayton studied black holes, Saturn's rings, and other parts of the universe for months in order to build his virtual universe. He started with Earth, using a globe to make sure the continents were in proportion with one another. Then, he worked his way out, building our solar system, our galaxy, and on and on. As he tackled the project, Slayton shared his progress on his YouTube channel, where he already had a record of some pretty bold Minecraft builds. 
Minecraft, which was developed in 2009, is a game that's designed to let players build their own worlds—or universes, in Slayton's case. Using building blocks made from different virtual materials, players can create just about anything they want. Some builds are inspired by fictional worlds from books and movies, while others, like Slayton's, aim to be as realistic as possible. B. Reeja Jayan, a mechanical engineer, says Minecraft has few rules—and that's a good thing.
"One of the advantages of using a game like Minecraft is it's so flexible," Jayan told the New York Times. "It's so easy for a small child to learn to play the game, but at the same time it's been adapted for teaching advanced scientific concepts."
Slayton has been playing Minecraft for nine years, and he has no plans to stop. Next, he wants to explore other dimensions!