Scientists say an animal that lived millions of years ago was as long as three school buses!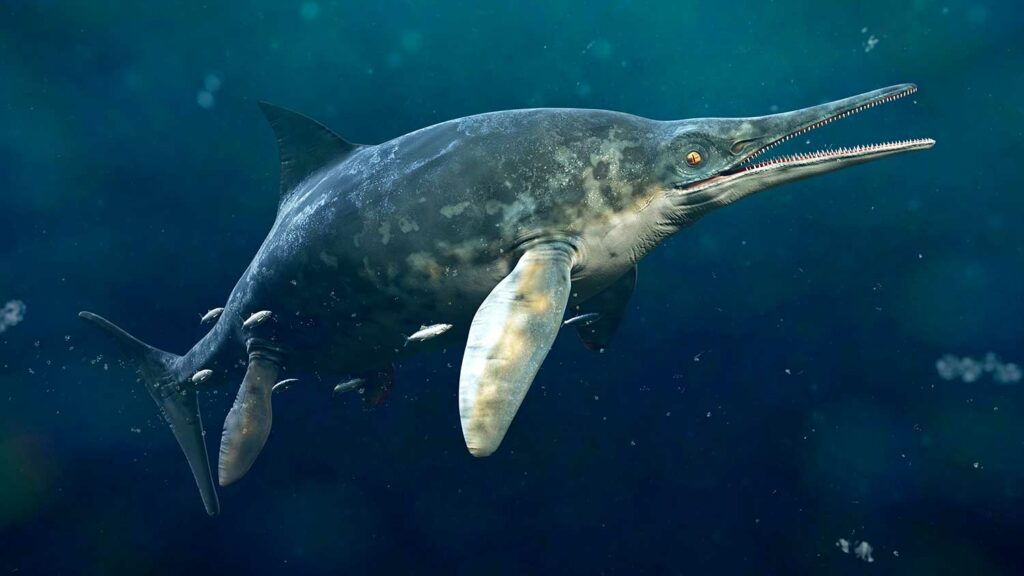 © Planetfelicity/Dreamstime.com
Based on fossils they have found, this is what scientists think a giant ichthyosaur looked like.
Blue whales are huge. These giants of the sea are known to reach lengths of 98 feet (about 30 meters). One blue whale can weigh about as much as 30 elephants! But are blue whales the largest animals ever? Maybe not. Scientists say that an ichthyosaur that lived about 200 million years ago might have been even bigger.
Ichthyosaurs were a group of reptiles that lived in the sea between 250 million years ago and about 65 million years ago. They were meat-eaters, so they would have hunted other animals in the sea. Although ichthyosaurs are extinct (no longer around), they're related to today's lizards and snakes. Scientists have found a lot of fossils of ichthyosaurs. Many of these fossils show that the animals had fins, long jawbones, and many sharp teeth. 
There were different types of ichthyosaurs. Scientists have long known that some of them were large—but they didn't know how large they could be. Recently, scientists studied a fossil that they think was once part of an ichthyosaur. Based on the size of the fossil, they think this ichthyosaur may have been up to 115 feet (35 meters) long. That's as long as three school buses lined up front to back! 
And it's a lot longer than the blue whale!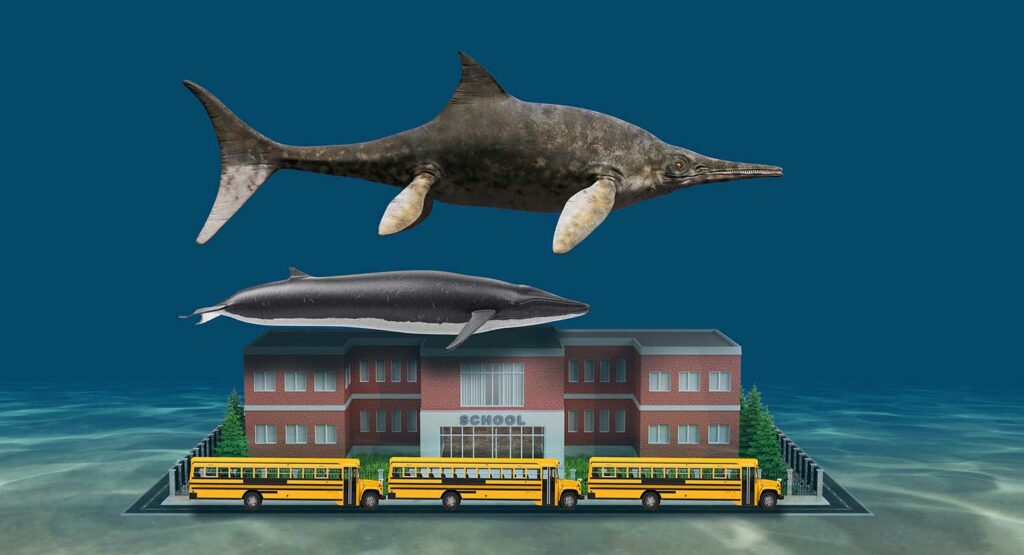 © Igor Zakharevich, Planetfelicity, Nerthuz, 3drenderings/Dreamstime.com, © zozulinskyi/stock.adobe.com; Photo illustration Encyclopædia Britannica, Inc.
This illustration shows how large the ichthyosaur was compared to school buses. The ichthyosaur is shown at the top, with the blue whale underneath.