How did the United States Constitution get written? It wasn't easy!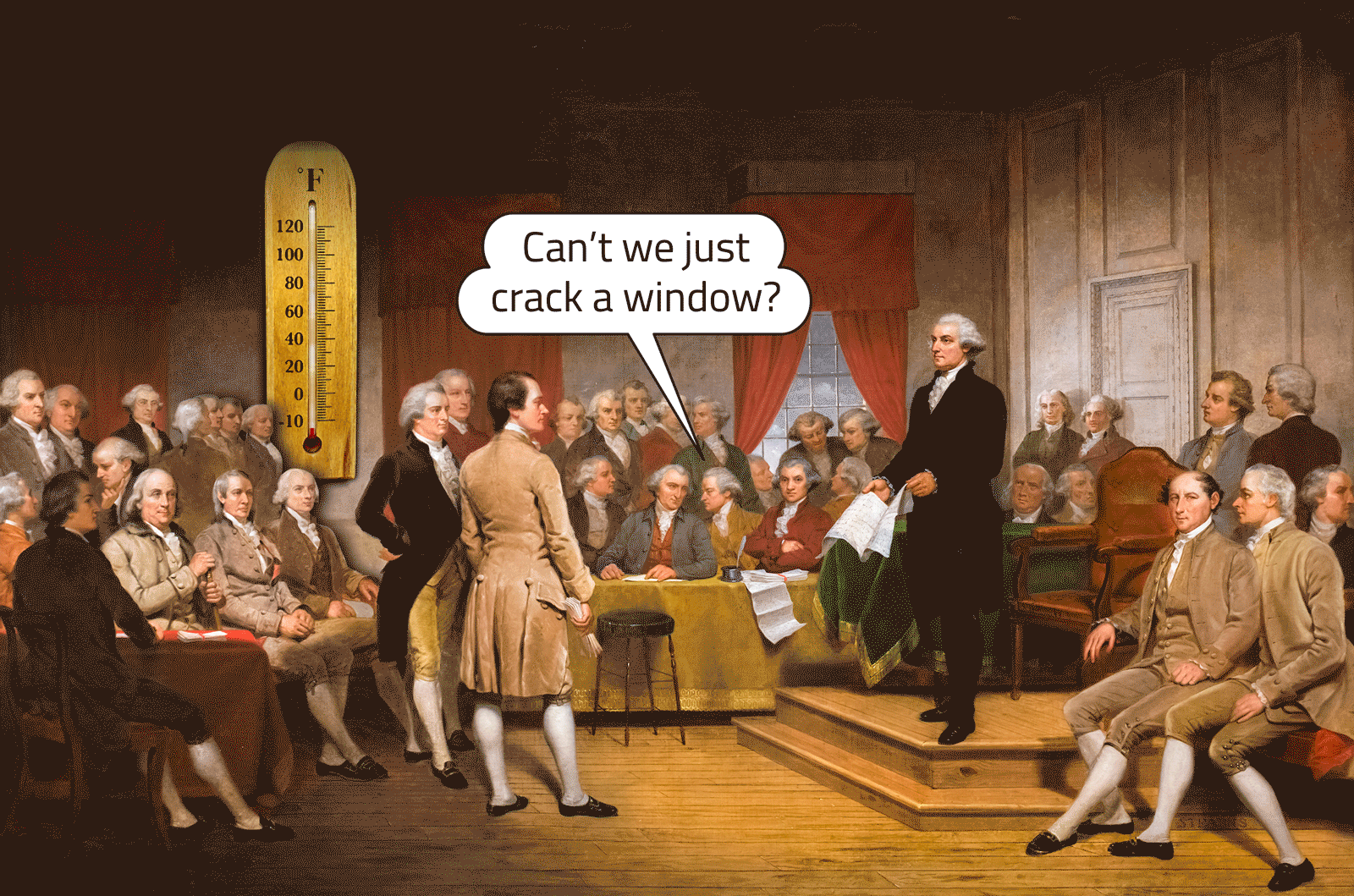 Ian Dagnall/Alamy, © Hakiagena/Dreamstime.com; Animation Encyclopædia Britannica, Inc.
In the summer of 1787, leaders from all over the United States met in Philadelphia, Pennsylvania. Their goal was to write a Constitution for the United States. 
This was a big deal. America had been ruled by Britain for more than 100 years. Now, it was an independent country, free from British rule. The Constitution would say how the new nation's government would work. Writing the Constitution took all summer, but on September 17, 1787, it was signed. Getting to that point wasn't easy, though. Here's a little more about the meeting in Philadelphia, which was called the Constitutional Convention.
Who was there?
Most states sent leaders (called delegates) to the Constitutional Convention. These leaders included George Washington, Benjamin Franklin, James Madison, and Alexander Hamilton.
Where did the delegates meet?
The delegates met at the Pennsylvania State House. They kept all the windows closed so no one outside would hear what they were saying. 
What was it like?
Since it was summer and the windows were closed, the building was very hot. The delegates wore coats, long-sleeved shirts, and breeches (a type of pants that went just past the knee) with stockings. Air conditioning hadn't been invented yet. In fact, there was no electricity back then, so the delegates couldn't even get a cool breeze from an electric fan.
What did the delegates talk about?
The delegates talked about how the new government should work. They didn't agree on everything. Some thought the new national government had to be powerful. A powerful government could do things like make laws to protect the people and collect taxes to pay for important things. But others were worried that a powerful government could take away the people's freedom. 
How did the delegates work things out?
Even after the Constitution was written, some delegates were still worried about the people's rights. They felt there should be a list of rights, or freedoms, that the government couldn't take away. This list was written down just a couple of years after the Constitution. It's called the Bill of Rights.