Tired of messy mealtimes, a group of students invented tape that prevents burritos, tacos, and other foods from busting apart.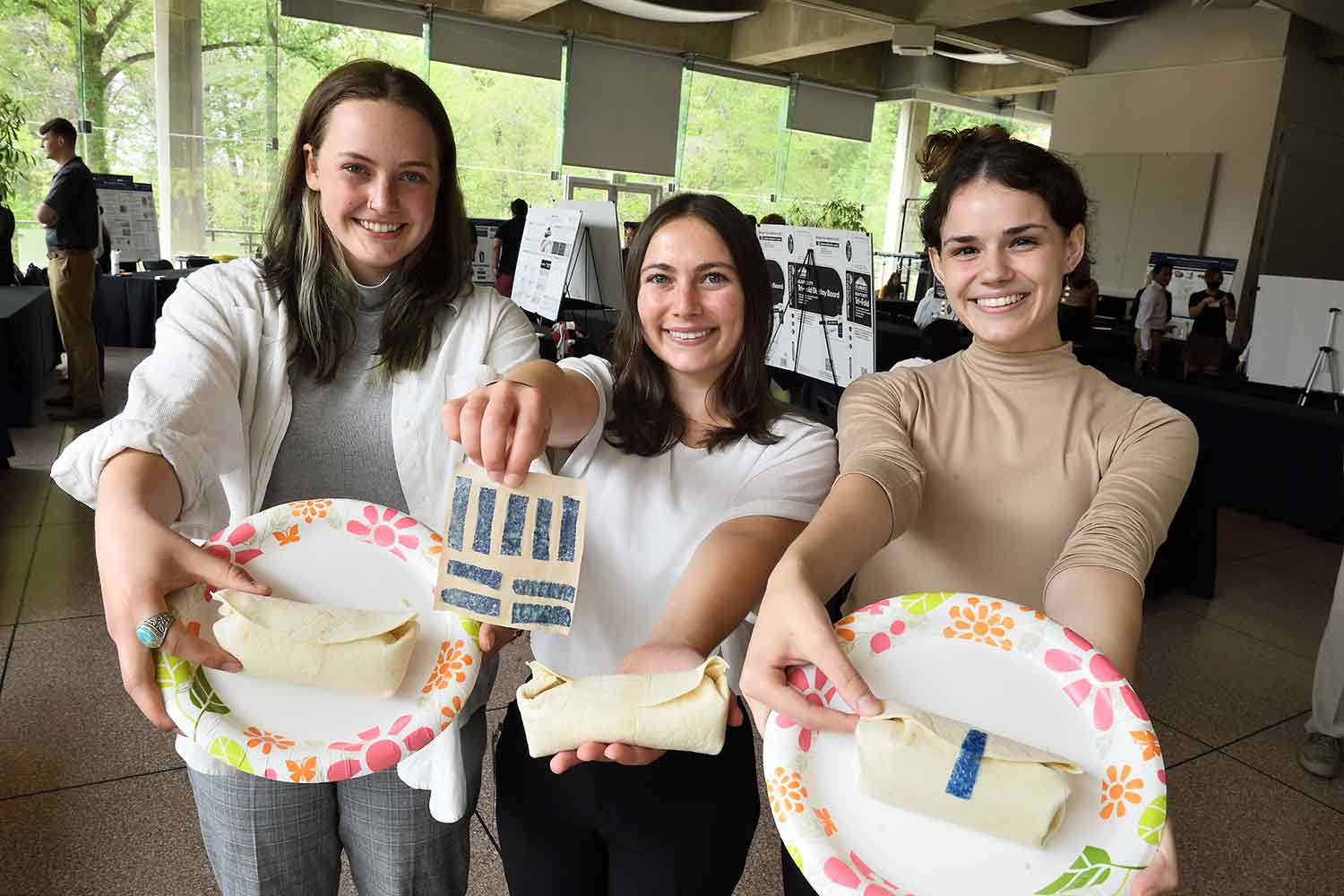 Three members of the Tastee Tape team show off their invention.
Picture it: You bite into a scrumptious burrito and—splat—its contents land all over your lap. This scenario is all too common for fans of folded food. But fear not, fastidious foodies. Engineering students at Johns Hopkins University have come up with a solution to busted burritos. They've created edible tape!
The adhesive strips are the creation of Tyler Guarino, Marie Eric, Rachel Nie, and Erin Walsh. The students set out to make an adhesive product with certain qualities. First, it had to be totally safe to eat. Beyond that, the students wanted it to be clear and colorless, with no noticeable taste or texture. It took months to come up with a winning formula.
The team began by studying regular tape—the kind that's used to hold objects together. They wanted to find out what keeps the tape structure together and what sort of adhesive makes it stick. The next step was to find edible materials that had the same capabilities.
"We tested about 50 different formulations," Guarino told CNN. Finally, the team came up with the winning formula, which they call Tastee Tape. It can be used on burritos, tacos, gyros, and any other food.
The team can't reveal the ingredients of Tastee Tape because they're applying for a patent.
"What I can say is that all its ingredients are safe to consume, are food grade, and are common food and dietary additives," Guarino told Good News Network. The tape is also vegan and gluten-free.
Currently, the team has a prototype of the tape. It consists of rectangular strips of tape that measure 0.5 inches by 2 inches (1.3 centimeters by 5.1 centimeters) on a wax paper backing. All users need to do is peel a piece of tape from the paper, wet it, and stick it on a piece of food. The team hopes eventually to package Tastee Tape in rolls, like other forms of tape.
Guarino says the team members put their creation to the test on lots of burritos. They're confident that the tape will hold together even the sloppiest foods. 
"Tastee Tape allows you to put full faith in your tortilla, and enjoy your meal, mess-free," Guarino told Good News Network.