Scientists expect that the James Webb Space Telescope will allow them to see space like never before.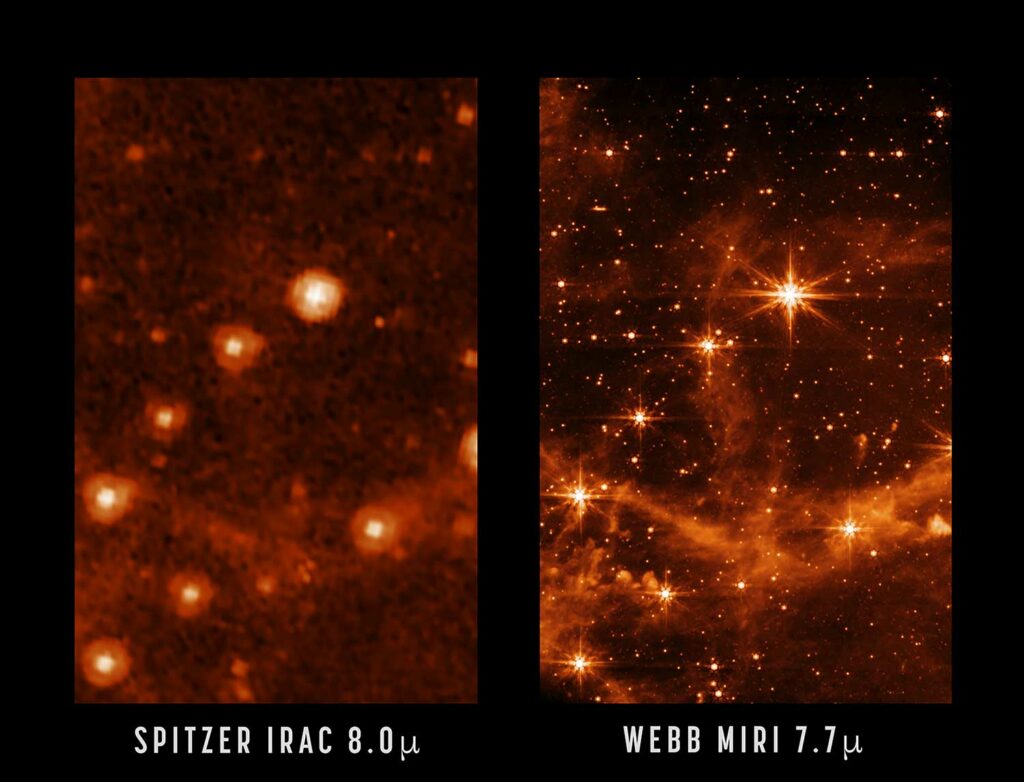 NASA/JPL-Caltech (left), NASA/ESA/CSA/STScI (right)
Images of the Large Magellanic Cloud, taken by the Spitzer Space Telescope (left) and the James Webb Space Telescope (right).
Imagine being able to look back in time to see what the universe was like billions of years ago. Amazingly, powerful space telescopes have allowed scientists to do just that! And with the new James Webb Space Telescope, scientists are poised to get the clearest view yet of the distant past.
Launched in orbit around the Sun in December 2021, the James Webb Space Telescope is a joint project of the National Aeronautics and Space Administration (NASA), the European Space Agency (ESA), and the Canadian Space Agency (CSA). The Webb recently produced test images that suggested just how much it will be able to show scientists about the universe. For example, it captured an image of the Large Magellanic Cloud, a small galaxy that is a neighbor to our own Milky Way galaxy. When scientists compared the image produced by Webb to an image produced by Spitzer, a now-retired space telescope, they were stunned. Both telescopes were designed to detect infrared light, which can't be seen by human eyes. But Webb's image of the Large Magellanic Cloud was much more detailed than the one Spitzer captured. 
"It's not until you actually see the kind of image that [Webb] delivers that you…go, 'Wow, just think of what we're going to learn.' Spitzer taught us a lot. This is like a whole new world," said Marcia Rieke, principal investigator for Webb's near-infrared camera, at a news conference.
The Webb is also considerably more powerful than the Hubble Space Telescope, which has produced remarkable images of the universe since its launch in 1990.
Webb's test images are just a preview of things to come. 
Scientists believe that when Webb becomes fully operational, around July 2022, it will be a game changer. In addition to capturing sharper images of stars, the telescope will be able to peer through the atmospheres of planets outside our solar system. Webb's powerful mirrors will also be able to see the earliest light from galaxies that formed billions of years ago. Webb will be able to give us clear views of this ancient history because the light from stars can take billions of years to reach us. 
"Astronomy is not going to be the same again once we see what [Webb] can do with these first observations," said Christopher Evans, Webb project scientist at the ESA, at the news conference.