Congress Passes New Climate Bill
The U.S. Congress recently passed the biggest climate law in the nation's history.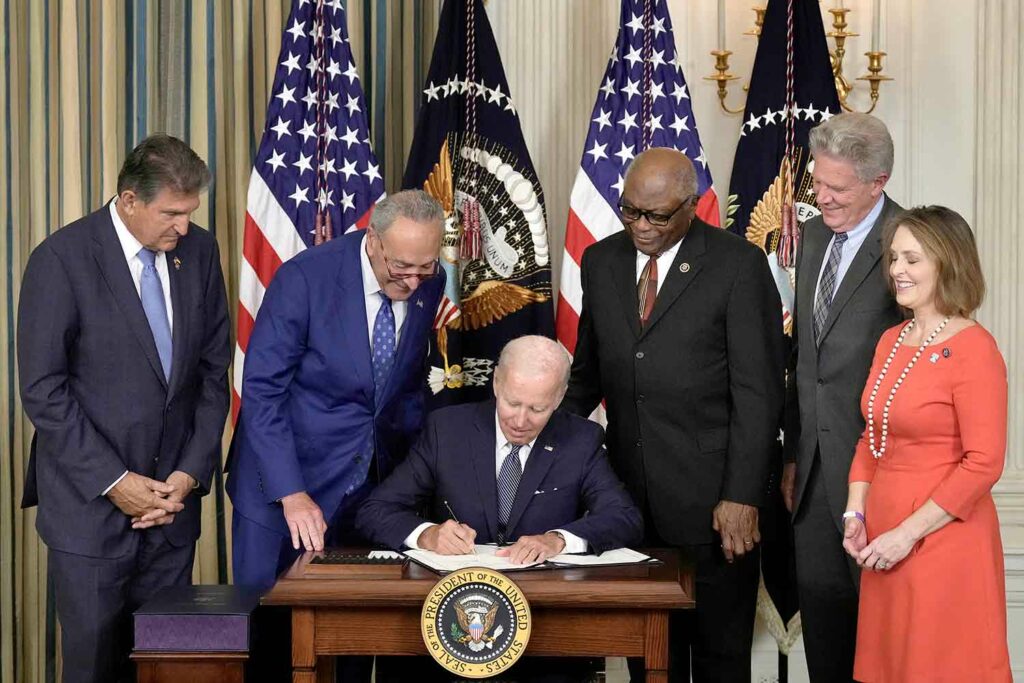 Drew Angerer/Getty Images News
U.S. lawmakers watch as President Joe Biden (seated) signs the Inflation Reduction Act into law on August 16, 2022.
The U.S. Congress recently passed the most significant climate law in the nation's history. The legislation is set to reduce U.S. carbon emissions at a time when the effects of climate change have become uncomfortably clear.
The law is called the Inflation Reduction Act. (The name comes from other parts of the legislation that aim to lower costs for health care and energy, among other things.) It will devote nearly $370 billion to reducing carbon emissions—the human-made pollution that is the biggest contributor to climate change. The goal is to get Americans to reduce their use of fossil fuels to power their homes, workplaces, and vehicles.
The law creates tax credits and rebates for companies and individuals who invest in renewable energy technology—things like solar panels, wind turbines, and electric vehicles. That means that those who switch to renewable energy will pay less in taxes. 
The law also contains other climate protection measures. For example, it devotes funding to installing energy-efficient technology at industrial sites. Money will also be used to restore forests, which help to lessen the effects of climate change. In addition, fossil fuel companies will be required to pay fees when they produce excess pollution. And communities that are being heavily impacted by pollution will receive funding for clean-up efforts.
Experts say the new law is set to reduce carbon emissions by 40 percent from their 2005 peak by the year 2030. 
Reactions to the law have been mixed. Some critics say it costs too much money, while others say it does not go far enough to address the climate crisis. But supporters say that, in a year when the effects of climate change have led to droughts, floods, and heat waves, any action is important.
"It's so important that we do this, and the benefits are still likely to be so much larger than the costs," Samantha Gross, director of the Energy Security and Climate Initiative at Brookings told the Associated Press. "This is still unquestionably the right thing to do."
President Biden signed the bill into law on August 16, 2022.