NASA says a collision between a spacecraft and an asteroid went according to plan.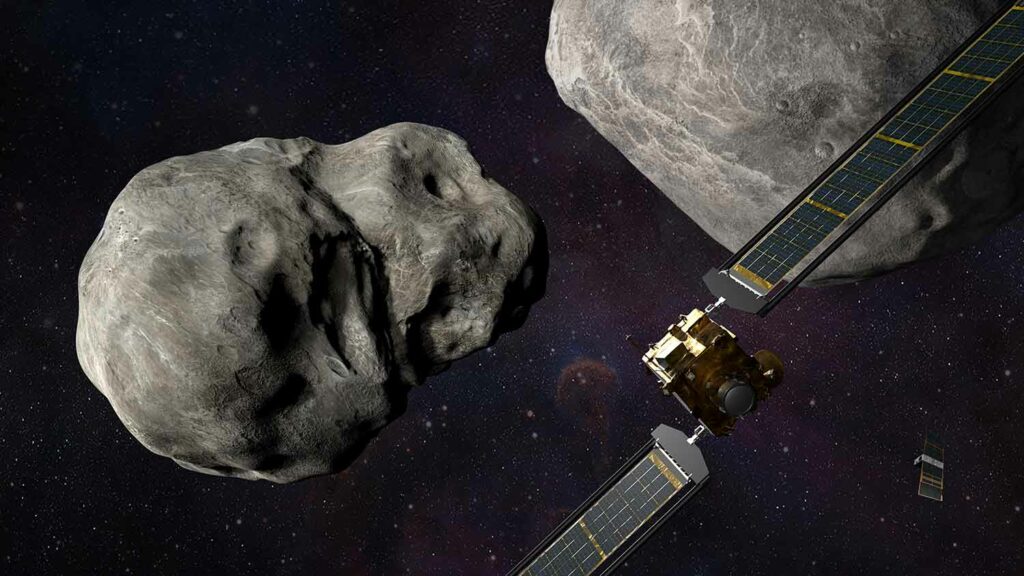 This illustration shows the DART spacecraft flying to Dimorphos and a nearby asteroid, Didymos.
On September 26, a NASA spacecraft struck an asteroid—on purpose. The collision was a test to see whether NASA would be able to stop an asteroid from hitting Earth, and according to scientists, it was successful.
In a mission called DART, the NASA spacecraft hit the football stadium–sized asteroid Dimorphos while moving at a speed of 15,000 miles per hour (24,140 kilometers per hour). The craft slammed into the asteroid just under 56 feet (17 meters) from its target, which scientists say is close enough.
"It was basically a bullseye," DART deputy program manager Elena Adams told the Guardian. "I think, as far as we can tell, the first planetary defense test was a success, and we can clap to that."
The collision between the spacecraft and the asteroid was live streamed. Here it is!
The purpose of the mission was to see whether a collision with a spacecraft could change the trajectory (path) of an asteroid that was headed toward Earth. Scientists say that while it's not likely that any large asteroid will hit Earth in the next 100 years, it's important to come up with a defense system. They won't know whether the spacecraft altered the asteroid's path for another two months or so.
A live stream showed the collision, which took place nearly seven million miles (nearly 11 million kilometers) from Earth. The event was also captured by the Hubble and James Webb Space Telescopes. Hubble's images showed materials spewing out from the 11-billion-pound (5-billion-kilogram) asteroid after the impact.
"When I saw the data, I was literally speechless, stunned by the amazing detail of the [ejected materials] that Hubble captured," Jian-Yang Li of the Planetary Science Institute in Tucson, Arizona, told USA Today. The institute directs the Hubble's observations. "I feel lucky to witness this moment and be part of the team that made this happen."