A robot called Cassie set a speed record after running on two feet. Why is that a big deal?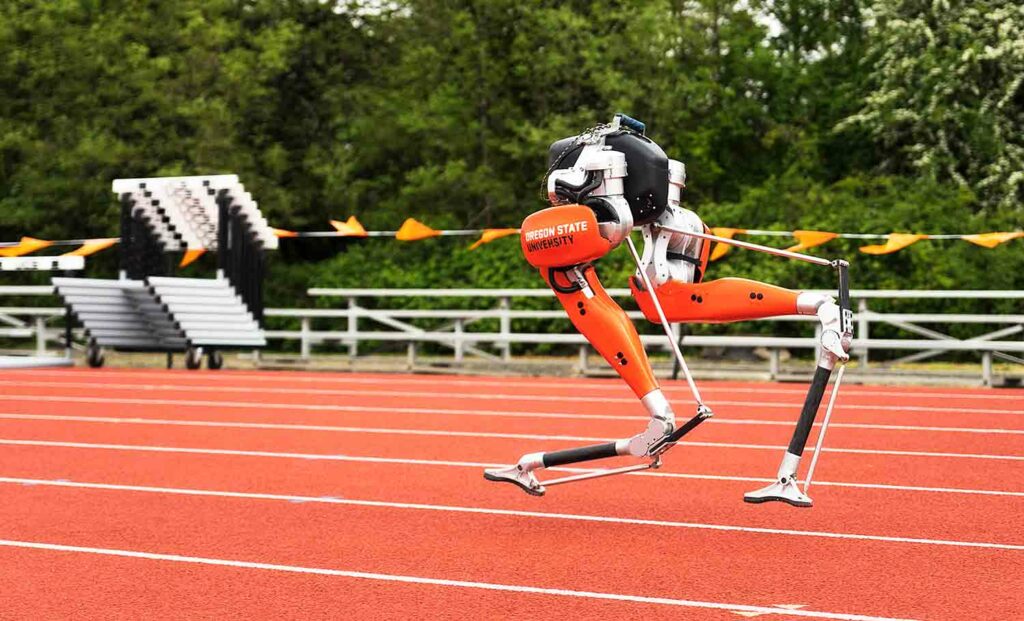 Cassie is the first bipedal robot to use machine learning to control its running movements.
Running 100 meters in 24.73 seconds isn't especially impressive for a human who's in good shape. But for a bipedal (two-footed) robot, it's extraordinary. In September, a robot called Cassie achieved this running time, establishing a Guinness World Record.
Cassie, which was developed at the Oregon State University (OSU) College of Engineering, set the record on an outdoor running track. During the run, the robot ran an average speed of a little over 13 feet (4 meters) per second. More significantly, it started and ended the run in a standing position. Project collaborator Alan Fern says this poses a challenge to a running bipedal robot.
"Starting and stopping in a standing position are more difficult than the running part, similar to how taking off and landing are harder than actually flying a plane," Fern, an OSU artificial intelligence professor, told The Robot Report. 
Cassie is the first bipedal robot to use machine learning to control a running pace outdoors. In 2021, the robot ran 3.1 miles (5 kilometers) outdoors in just over 53 minutes. The robot is designed for running. Its "legs" bend like the legs of an ostrich, a non-flying bird that can run at speeds of up to 43 miles (69.2 kilometers) per hour. 
OSU robotics professor Jonathan Hurst, who is directing Cassie's development, said making robots more agile opens many possibilities for what these machines might be able to do in the future.
"This may be the first bipedal robot to learn to run, but it won't be the last," he said. "I believe control approaches like this are going to be a huge part of the future of robotics. The exciting part of this race is the potential…. I think progress is going to accelerate from here."